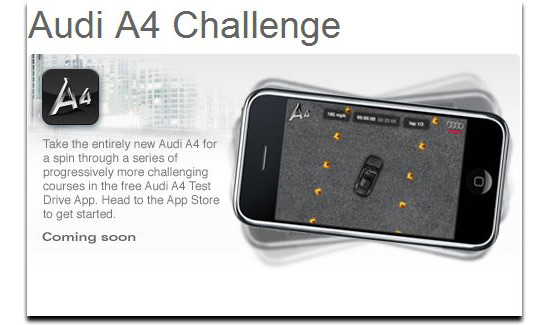 Audi of America announced the release of the first ever iPhone application from an auto manufacturer. "Audi A4 Challenge" is a driving game that utilizes the iPhone's accelerometer (motion sensor) to steer a digital version of Audi's entirely new 2009 A4 through a series of progressively challenging courses.
Players maneuver the course and race against the clock to beat their own personal best time. The application is now available free of charge on Apple's iPhone Application Store. The 2009 Audi A4 will be available in Audi dealerships nationwide starting in September of 2008.
"The iPhone is an ideal platform to help introduce the entirely new Audi A4 to the public," said Scott Keogh, chief marketing officer, Audi of America. "Audi customers are smart, sophisticated and technologically savvy. As a brand, we are committed to progress and innovation at every turn. We're very excited to be the first automotive manufacturer to connect with our audience through the iPhone."
Located in Denver, Factory Design Labs, Audi's interactive agency of record designed the game in just two weeks.
"Innovation is the foundation of the Audi brand," said Scott Mellin, CEO of Factory Design Labs. "This is the first application by an automotive OEM, but it's also reinventing the shopping experience. In combination with the A4 iPhone web site, this is the first viable mobile marketing solution in the automotive space. Importantly, it is also a unique way to engage the consumer with the DNA of the Audi brand."
To support the application and the launch of the A4, Audi has also created an A4 iPhone experience web site that allows users to experience and learn more about the entirely new Audi A4. Customers who visit truthinengineering.com/a4/iphone on their iPhone will find a unique interface and content on the A4, specialized videos, wallpapers, an exterior color customizer, a dealer locator and link to install the Audi A4 Challenge application.
We we Indians know that the A4 was launched here as well. So lets hope we get something similar. This looks to be the next big thing connecting cars and phones. We had earlier carried an article about measuring the performance of your BMW using the iphone. Read that article here.
Source : Audi Tuning mag