A few images from 'Diesel lover', a forum member at TeamBHP, have ignited the speculation that Maruti is planning to launch the Alto 800, a replacement to the old Maruti 800, with a factory fitted CNG option.
Here we have a brand-spanking new, cherry red Alto 800 with a CNG Tank in the boot as clear evidence of a bi fuel option right from the day of launch. Of course, Maruti Suzuki already provides a CNG fitment on the Alto F8 which shares its engine with the 'Alto 800'. Thus, not a big leap of technology has been achieved here.
Even more interesting fact is that the Alto 800's base version (generally the LXI in case of Maruti) will be fitted with driver side airbags and power windows making it a feature rich proposition. Rest of the interior remains pretty much basic.
The small car market is about to get very crowded very soon. Current players such as Hyundai (with the Eon), Tata (with the Nano) and GM (with the Spark) are doing decent numbers. Renault Nissan are working day-in and day-out to create a small car for the Indian market. Fiat and Ford are also eager to taste success in the sub 3 lakh car market.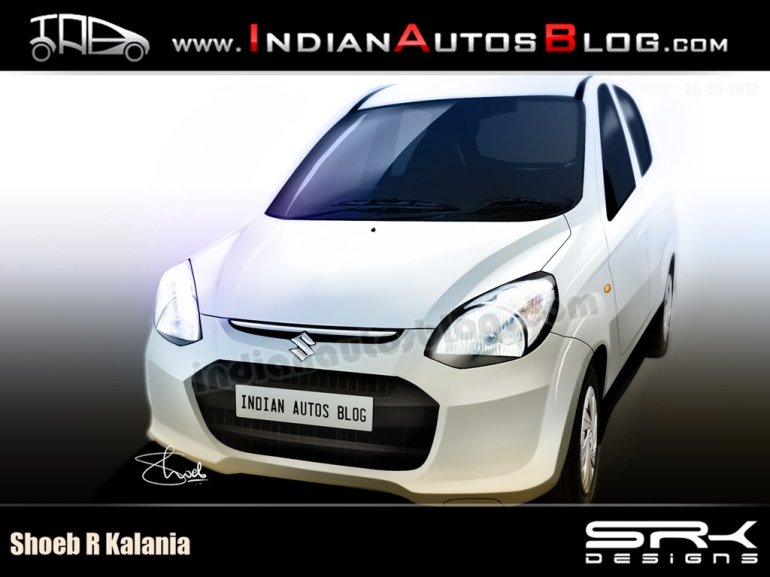 Maruti Suzuki definitely has an upper hand in the small car market. More importantly, the largest automaker has its hands on the pulse of the average Indian buyer. Maruti engineers have been working on the Alto 800 for some four years now. They started the project knowing that India's small car market would attract every player to participate.
The Alto 800 sits on the on the Alto platform and uses an upgraded version of 800cc petrol engine. A very smart move of providing an optional CNG kit will get some good sales in most metro cities where the CNG network is adequate. Looking at the volatile fuel prices, we think most manufacturers will adopt this strategy very soon.
Pricing will be a key for the success of the Alto 800. Maruti Suzuki needs to aggressively price the Alto 800 against the Eon and the Spark to make sure it maintains the lead in the future.
As the car in the images looks almost production ready, we are expecting a pre-diwali launch to gain maximum traction.
[Source: team-bhp.com]