In this post, have not one, or two, but four Yamaha RD350 motorcycles that belong to one of our followers and an avid collector, R Deena Dayalan from Mysore. All bikes were saved from an ill fate and restored to near perfection. Also read: Restored Royal Enfield Mofa looks absolutely picture perfect
The Red and Silver Yamaha RD350s are the model year 1984, low-torque variants of the motorcycle range. Regular readers would know that the RD350 was sold in two options – 'High Torque (HT)' and 'Low Torque (LT)'. The HT version, which initially produced 39 bhp, was re-tuned to deliver 30.5 bhp. The LT variant, on the other hand, makes 27 bhp.
The first of the four Yamaha RD350s to enter Deena's garage was the red, low-torque model. He paid INR 1.2 lakh for a motorcycle that was in terrible shape. He spent another lakh and invested three months in bringing back the RD350 to life. The long duration to restore the bike was due to lack of spares. However, the internet and social networks came to R Deena's rescue, and he was eventually able to source the required parts.
The next to reach his garage was the blue RD350. This particular RD350 is the high-torque variant of the motorcycle. The motorcycle cost R Deena a whopping INR 2.5 lakh from Bangalore via OLX while another INR 60,000 spent to restore the bike.
A US-spec RD350 was soon added to the collection. The motorcycle, which looked very attractive in the "For Sale" post, was in bad shape in reality. Yet, Deena picked up the bike for INR 2 lakh and fixed it to appear picture-perfect. The maroon coloured RD350, as mentioned before, is a US-spec model and thus comes equipped with a disc brake at the front. The old-school style disc brake did not feature the cooling holes design that you see in modern-day motorcycles.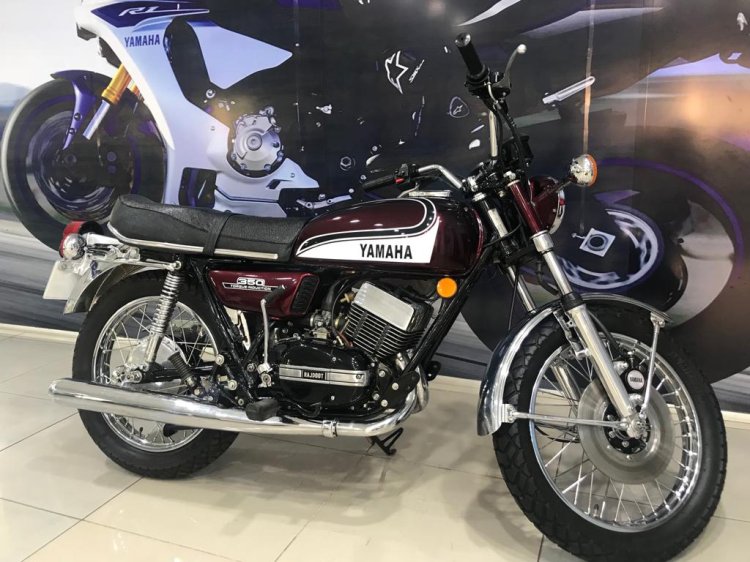 Also read: Modified Yamaha R15 gets fingerprint start-up, automatic mirrors and cruise control
The last RD350 belonged to a person who had a mutual friend with R Deena. The owner was shifting to Australia and thus was looking to sell. The owner wanted to sell it to someone who loved to maintain vehicles and that's how he met Deena. Our reader purchased the motorcycle and replaced a lot of spares like silencers clutch assembly, seat and paint job to get it to this shape.