Mercedes-Benz has taken the wraps off the all-new CLA at the CES 2019. Here's a visual comparison between the all-new model and its predecessor.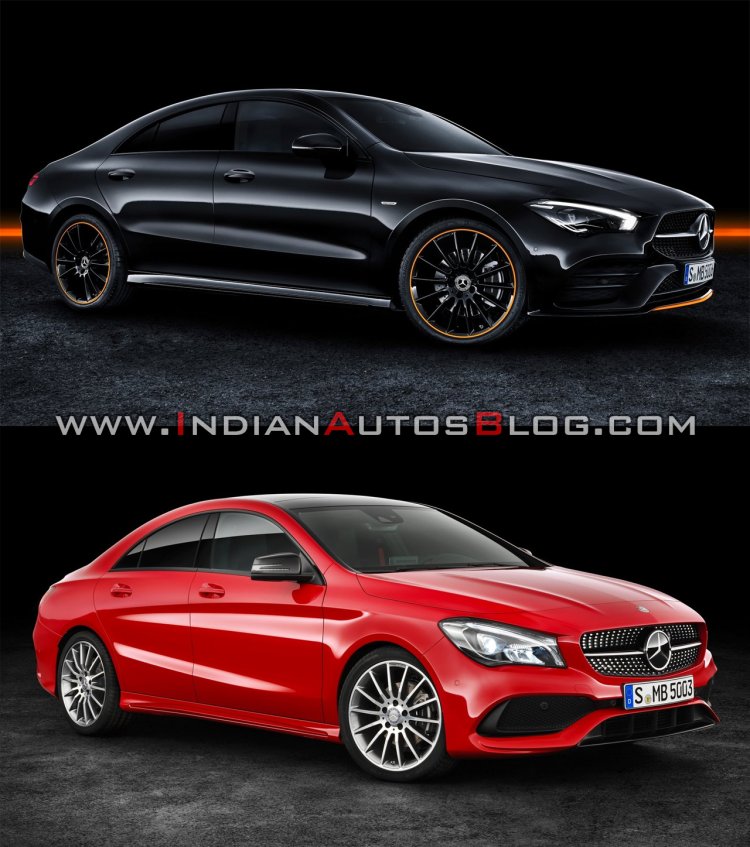 The second generation of the Mercedes-Benz CLA looks like a mini-Mercedes CLS. The basic recipe for the seductive entry-level coupe remains the same: a long, stretched bonnet, a wide track with exposed wheel arches, a compact greenhouse, frameless doors and rounded tail.
The designers have pushed back the greenhouse for a sportier design in the second generation model. The flat headlamps and narrow tail lamps give an increased sense of aggression, while the clean, uncluttered surfacing on the door panels heighten the gracefulness of the compact four-door coupe. Inside, the minimalist and high-tech cabin has a strong resemblance of the fourth-gen Mercedes A-Class and first-ever Mercedes A-Class Sedan.
Thanks to a 63 mm wider track at the front and a 55 wider track at the rear, and a lower centre of gravity, the 2019 Mercedes CLA offers a sportier drive. A decoupled multi-link axle at the rear has reduced noise and vibration, while a stabiliser bar with a larger diameter has reduced body roll. Mercedes-Benz has specially adjusted the ESP for the car's potentially high cornering speeds and handling performance.
It is safe to assume that the all-new Mercedes CLA will come with the same turbocharged four-cylinder engines as the latest Mercedes A-Class family and the all-new Mercedes B-Class, including the 1.33-litre petrol unit co-developed with Renault. The car in the images here is the CLA 250 with the M260 2.0-litre petrol engine that produces 225 PS and 350 Nm of torque. This engine is coupled to the 7G-DCT 7-speed dual-clutch transmission.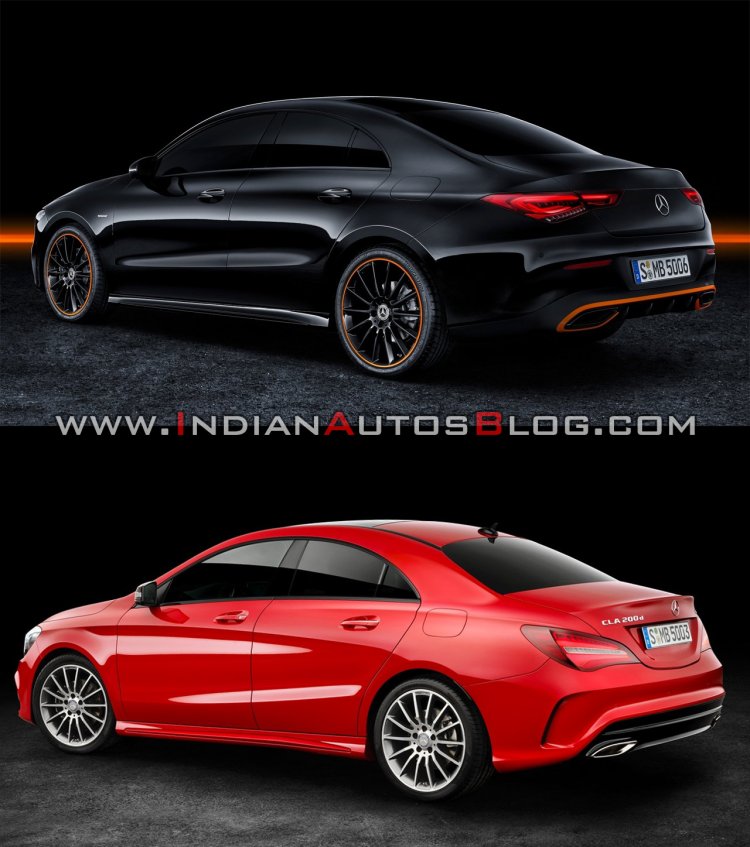 Also See: Russian media envisage the 2020 Mercedes E-Class (facelift) - Rendering
The production of the all-new Mercedes CLA will take place at the Kecskemet plant in Hungary. Its European launch is scheduled for May 2019.
First-gen Mercedes CLA vs. second-gen Mercedes CLA - Dimensions
Parameter
Unit
First-gen CLA
Second-gen CLA
Diff.
Exterior dimensions
Length
mm
4688
4640
48
Width
mm
1830
1777
53
Width incl. exterior mirrors
mm
1999
2032
-33
Height
mm
1439
1441
-2
Wheelbase
mm
2729
2699
30
Front track
mm
1612
1549
63
Rear track
mm
1602
1547
55
Interior dimensions
Max. headroom, front
mm
1023
1006
17
Headroom, rear
mm
908
905
3
Legroom, front
mm
1062
1063
-1
Legroom, rear
mm
861
860
1
Elbow room, front
mm
1457
1422
35
Elbow room, rear
mm
1454
1410
44
Shoulder room, front
mm
1400
1391
9
Shoulder room, rear
mm
1372
1350
22
Load compartment width max.
mm
1444
1331
113
Load compartment depth max.
mm
1054
1030
24
Width of load compartment opening
mm
891
629
262
Boot capacity, VDA[1]
l
460
470
-10