Just over half a year after the launch of the 2017 Suzuki Swift, Suzuki has revealed the 2018 Suzuki Swift Sport. Here's how the 2018 Suzuki Swift Sport compares with the 2012 Suzuki Swift Sport.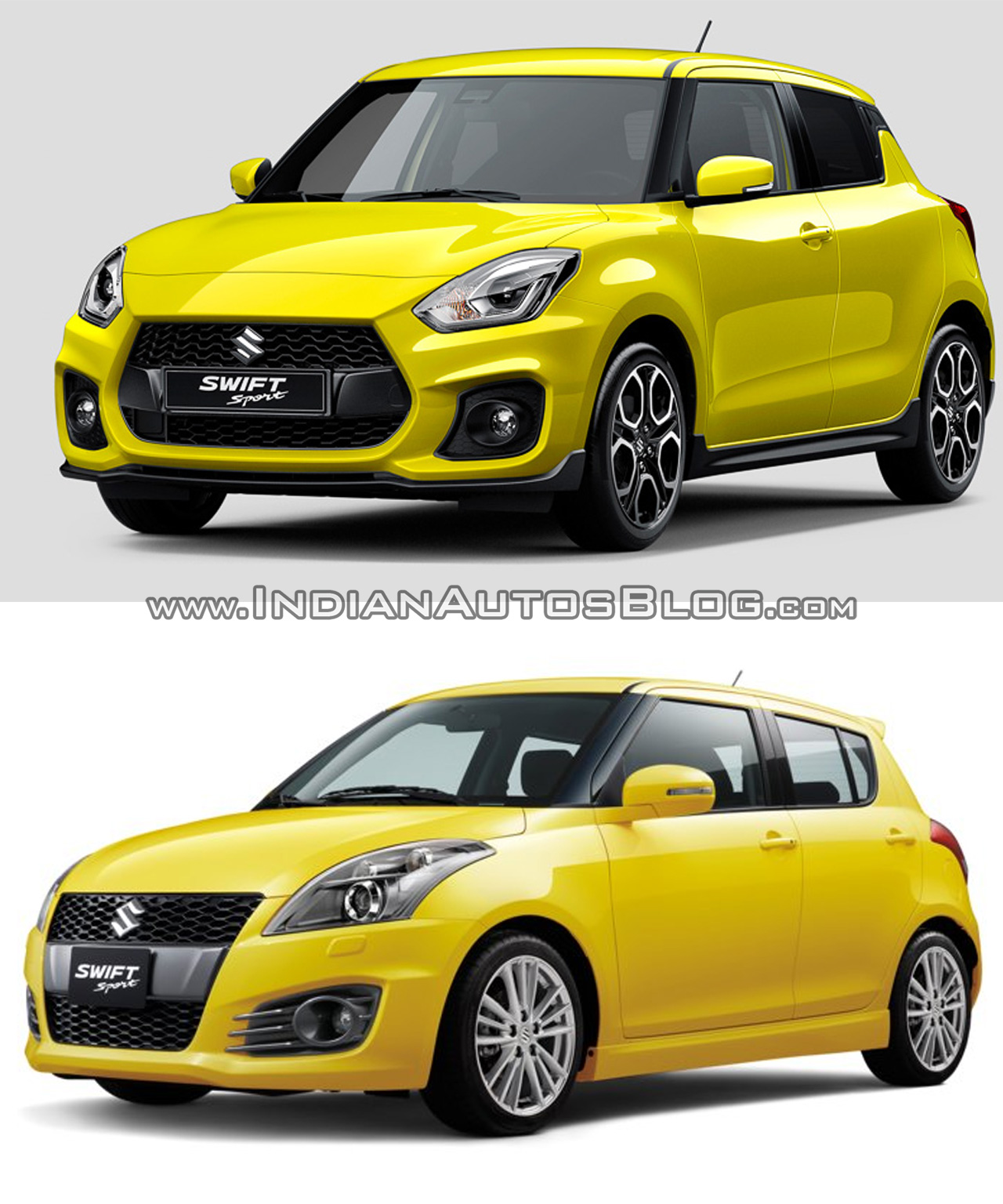 The 2018 Suzuki Swift Sport is the third generation model of the nameplate. The second generation Suzuki Swift debuted in the 3-door version at IAA 2011, and the 5-door version followed early next year. Due to the steep fall in demand for three-door vehicles globally, the 2018 Swift Sport is a strict 5-door hatchback.
The old Suzuki Swift Sport measures 3,890 mm in length, 1,695 mm in width and 1,510 mm in height. The standard Suzuki Swift is now 10 mm shorter, 40 mm wider and 15 mm lower than the previous generation Suzuki Swift. One can imagine the Sport variant with such dimensional changes, possibly with minor variations. The kerb weight is reported to fall below 900 kg from current 1,060 kg (MT)/1,075 kg (AT), partly thanks to the HEARTECT platform.
The old Suzuki Swift Sport is powered by the M16A 1.6-litre naturally aspirated petrol engine. It produces 100 kW (134.48 hp) and 160 Nm of torque. The 2018 Suzuki Swift Sport will reportedly substitute it with the new K14C 1.4-litre turbocharged petrol engine good for 150 PS (147.89 hp) and 25.0 kgf.m (245.17 Nm) of torque from the Suzuki Vitara S. Transmission options should remain unchanged: 6-MT and 6-AT.

Also Read: Next-gen Maruti Swift Sport under consideration for India
The 2018 Suzuki Swift Sport debuts at the 2017 Frankfurt Motor Show (IAA 2017) on 12 September 2017. MSIL is reported to be planning a Maruti Swift Sport version based on the 2018 Maruti Swift. To merit affordability and fuel efficiency, the company could drop the 1.4 Boosterjet for the 1.0 Boosterjet employed on the Baleno RS.