Update - Auto-Moto has added the signature Renault Sport "liquid yellow" body colour to the Renault Megane RS patents. Watch out for the world premieres of both models at the IAA 2017 this September.
17 July 2017 -
Patent filings made with the World Intellectual Property Organization (WIPO) have revealed the exterior styling of the upcoming 2018 Renault Megane RS and updated 2018 Renault Megane GT variants. The images detail both variants from all angles.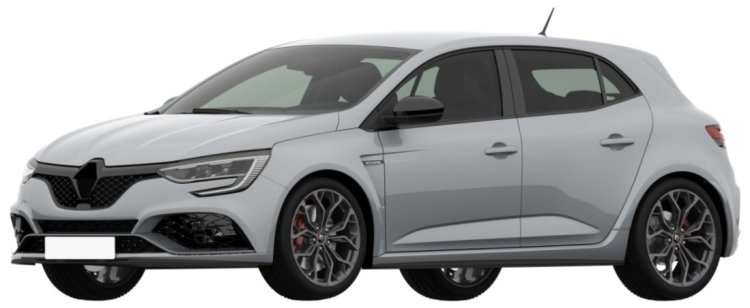 This is the best look at the design of the upcoming hot hatchback from Renault we have had since leaked images of the car surfaced in May 2017. The images confirm plenty of styling elements that were being speculated in the media. The bumper of the Renault Megane RS features chequered flag pattern LED fog lamps and a different profile as compared to the standard Megane variant. It also gets flared wheel arches to complement the wider track along with an air inlet placed behind the front wheel arch.
At the back, the Megane RS has a large rear diffuser along with a centrally placed trapezoidal exhaust tip. There are air vents on the extremities of the rear bumper. While the headlamp and tail lamp profile is the same as the standard car, both appear to have new graphics.
It seems along with the unveiling of the Megane RS, Renault will also reveal an updated Megane GT. The 2018 Renault Megane GT gets a new front bumper with larger air intakes. However, the front grille, alloy wheel design, and rear bumper appear to be the same as the current car. As per the images here, the headlamp and tail light graphics will be new.
Reports suggest the Renault Megane RS will be powered by a 2.0 L Turbocharged four-cylinder petrol engine that will produce around 300 bhp. Transmission options will include manual and dual clutch automatic options. Renault seems to have ruled out an all-wheel drive setup for the Megane RS, however, it will get a rear-wheel steering to improve agility. The upcoming Renault Megane RS will make its debut at the 2017 Frankfurt Motor Show in Germany on September 12. The Megane GT facelift is also expected to make its debut at the same event. It will go on sale in Europe in the first quarter of 2018.
2018 Renault Megane RS - Image Gallery
[Source - Auto-Moto]