Mahindra & Mahindra has launched an updated range of the Bolero Pik-Up. Promoted as 'Maha' Bolero Pik-Up, the 2018 model has an introductory starting price of INR 6.66 lakh (ex-showroom, Pune).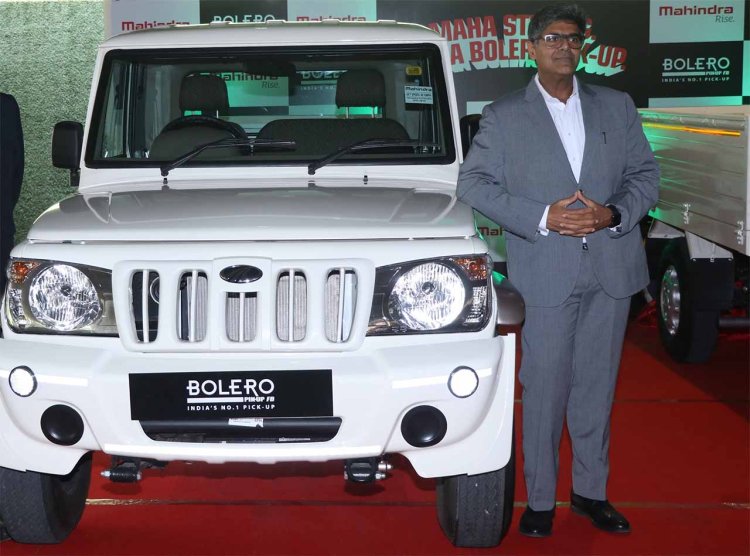 The 2018 Mahindra Bolero Pik-Up range consists of varying body styles and payload capacities of 1,300 kg, 1,500 kg & 1,700 kg. The base variant is most suitable for inter and intra-city applications. The 1.5-ton version makes a lot of sense for heavy load applications in tough terrains, while the one with highest payload capacity can be used for long-distance applications with the national transport permit.
All the versions feature Twin Tandem Booster LSPV brakes and stronger body and chassis. The pickup truck has received a handful of mechanical updates, including a double bearing axle, stronger 9-leaf suspension and 15-inch 12-ply radial tires to support the heavy load.
A 2.5-litre m2DICR turbocharged diesel engine continues to drive the entire range of Bolero-based pickups. It produces a maximum power of 70 hp @ 3,200 rpm and a peak torque of 195 Nm between 1,500 - 1,800 rpm. The motor comes mated to a five-speed manual transmission that sends power to the rear wheels.
Inside, the 2018 Mahindra Bolero Pik-Up features revised co-driver seat and other minor updates to enhance the occupant comfort levels.
Speaking on the launch of the 2018 Mahindra Bolero Pik-up range, Veejay Nakra, Chief – Sales and Marketing, Automotive Division, Mahindra & Mahindra Ltd said,
"As a market leader for over 20 years, it has always been our endeavour to raise the bar in the pickup segment and provide the best customer value. The Maha Strong, Maha Bolero Pik-up provides unprecedented earning potential with its category best 1,700 kg payload and 9 ft (2765 mm) length cargo box. This Maha Bolero Pik-up will further enhance the core values of Mahindra's tough and rugged DNA, enabling higher earning potential with lower maintenance costs, and take the brand to the next level"
Also Read - Mahindra Pik-Up (Mahindra Scorpio Getaway) likely to be launched in Belarus - Report
The 2018 Mahindra Bolero Pik-up range is available with "India Ka No. 1 Pickup Ka Vaada" scheme that offers 2 years of free maintenance and Rs. 4 lakh buyback guarantee after 4 years.