New King of Executive sedans?
When the latest Mercedes E Class (W213) was digitally unveiled more than a year ago, Mercedes-Benz were quite proud of its semi-autonomous driving technology, claimed to be even better than that of the Mercedes S Class and can challenge Tesla's Auto Pilot system. However, such radar systems don't exactly make sense in India, given the complex road infrastructure and style of driving. It would merely serve as a bragging right.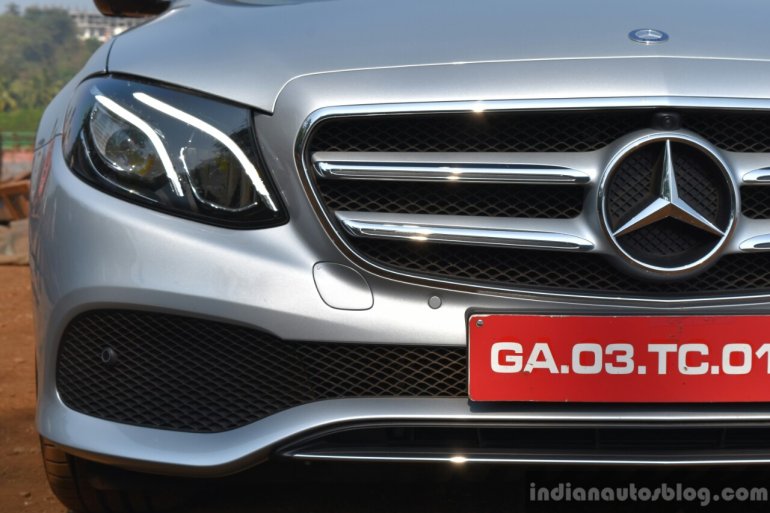 The E Class is Mercedes India's best-selling and most important car in the local portfolio, so the arrival of W213 in India was inevitable. For a while, I thought that the Indian market was going to get the less sophisticated version of the standard model sold in other countries (not necessarily a bad thing). It still is, but Mercedes India compensated with something even better - a longer wheelbase. India is the first market to receive the RHD version of the long wheelbase E Class, and will remain exclusive here for the foreseeable future.
Not to mention, Mercedes India will only sell the long wheelbase version. They believe that a good portion of executive sedan customers have chauffeurs to drive them around, so good rear seat comfort is a priority. To some extent, it's true. If I told my uncle that a long wheelbase version of the E Class is launching this month, he would scoop it up in a heartbeat. Would I, if I had around INR 80 Lakhs lying somewhere? Here is my first drive review of the all new Mercedes E Class (LWB).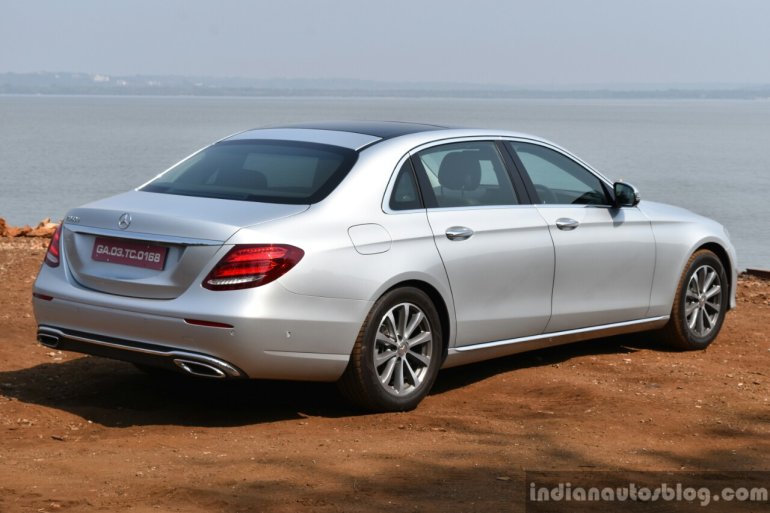 When I heard that an E Class LWB was in the works, I wasn't sure whether Mercedes would get the proportions right. But as the new E Class rolled onto the podium for showcase the previous day, the proportions grew on me instantly. It's over 5 meters long (5,063 mm), accommodating a 3079 mm wheelbase that screams "interior space". With the long wheelbase, lower height and an S Class-inspired exterior, the new E Class has a regal presence on the road, something that the predecessor was lacking.
Speaking of its exterior, the design is simple, contemporary and handsome, albeit a bit too similar to the S Class and C Class duo. Keen-eyed enthusiasts will be able to spot certain changes that help differentiate the E Class from its siblings, one of which is the rear quarter glass styling.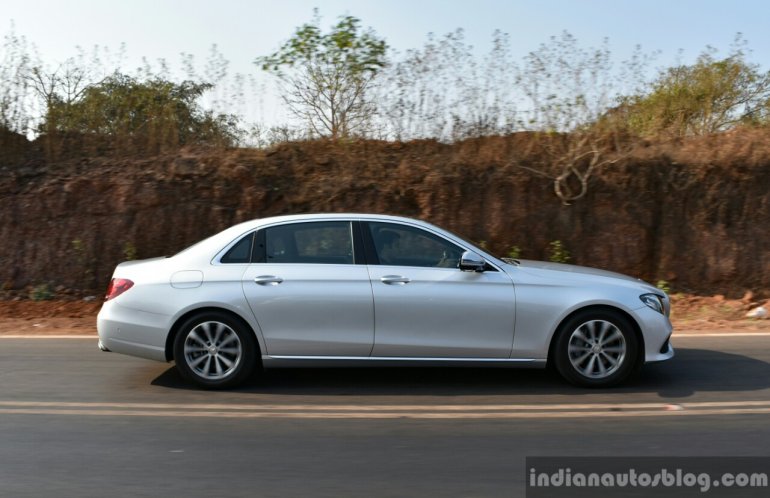 Then there are the new LED headlamps, each housing a pair of LED strips (a nod to its predecessor), 17-inch multi-spoke alloy rims, more angular LED taillamps with a 'stardust' effect, and dual exhaust pipes (which are fake on closer look).
Inside, the design has bits sourced from the S Class and C Class duo, as well as unique elements of its own. It looks much simpler and has more flowing lines than the outgoing model. Gone are the squarish central HVAC vents and a hodgepodge of buttons for a quartet of new circular, retro HVAC vents and a distinctly horizontal array of buttons, which are tactile and well-laid into the gloss-black center console.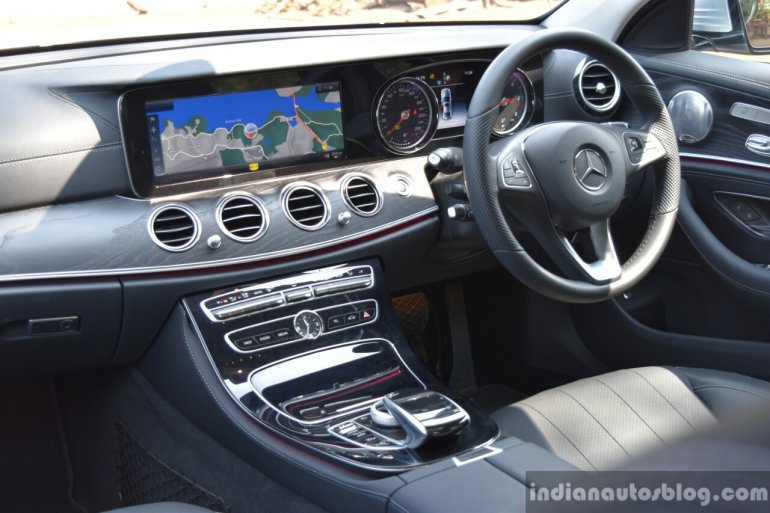 Mercedes are offering two cabin colors at launch: an all black interior with contrast white stitching and silver accents, and a dual-tone beige and black combo. I have an affinity for well laid all black interiors, so I would pick the former. It is well contrasted with silver and chrome trim pieces all over the cabin, and comes adorned with ash black open-pore wood trim on the dashboard and door cards as standard. Build and perceived qualities of the interior meet Mercedes' standards; expect the highest levels of craftsmanship and materials used inside.
The upper portion of the dashboard houses a large and crisp 12.3-inch COMAND infotainment display and a regular instrument cluster with analog dials. For the Indian market, there's no option of a 12.3-inch instrument display similar to the S Class, although it's merely eye candy. The COMAND system's UI is now simpler to navigate around, but using Apple CarPlay or Android Auto without touch response is slightly odd.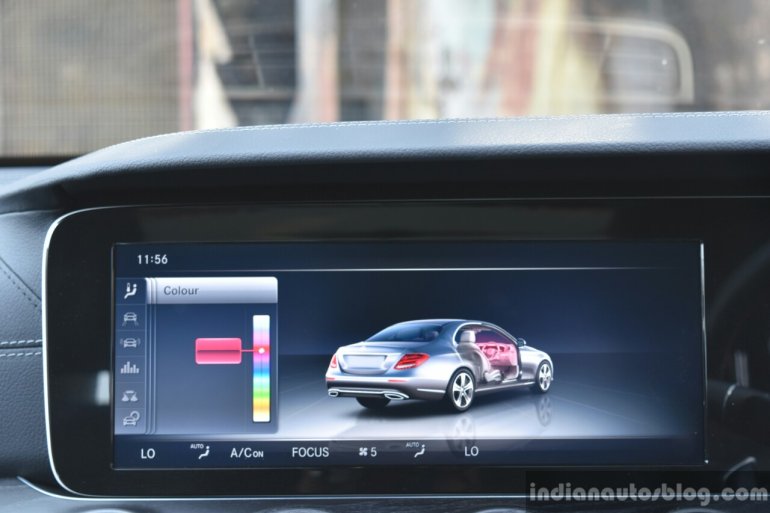 The familiar steering wheel has first-in-class mini touchpads on each spoke, which allow for easy navigation of the COMAND infotainment system and the multi-info color display. I much prefer using these mini touchpads for navigation instead of the large touchpad or rotary controllers on the center console.
Now let's talk about the rear-seat; the place where most E Class owners will spend most of their time. It easily offers the best rear seat experience in its segment. As much as I like the driver's seat, the E Class only feels special when you're at the back seat.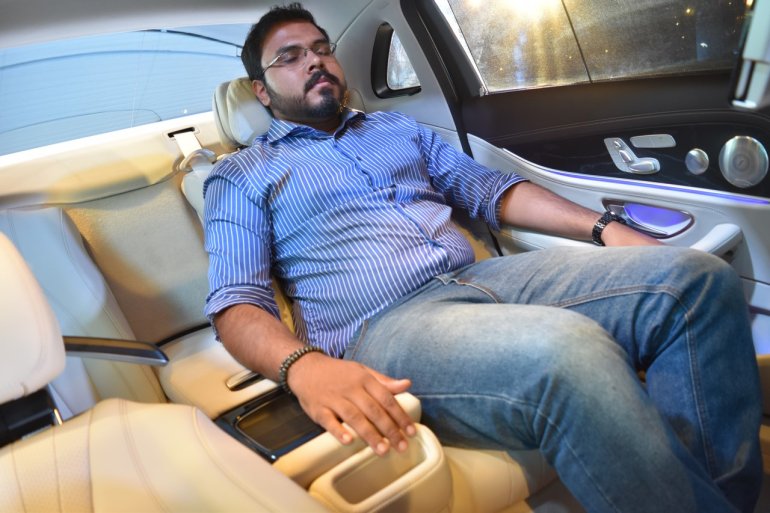 In a segment-first, the seats offer power-operated recline and headrest height adjustments, and a super comfy pillow to park your head. Thanks to the long wheelbase, there are acres of legroom to spare, even with the front seats set for a tall passenger. Recline the seat, play some soothing tunes through the 13-speaker Burmester 3D audio system, set the air suspension to Comfort, and you could easily relax and zone out as I did several times during the drive. However, a strange omission are a set of cupholders in the armrest, which one would generally expect from a luxury limousine.
Other highlights of the interior are the ambient lighting with 64 colors (bwoah!), panoramic glass roof, auto sun blinds, an old school analogue clock, tri-zone auto climate control, 360 degree camera system with Parking Pilot, and seven airbags.
At launch, the new Mercedes E Class will be sold in both petrol and diesel variants. We had a go in the top-end E 350d diesel variant, which packs a 3.0L twin-turbo V6 diesel motor paired with the new 9G-TRONIC (9-speed) automatic gearbox, producing 190 kW and 620 Nm of torque. On paper, the figure '620 Nm' sounds exciting.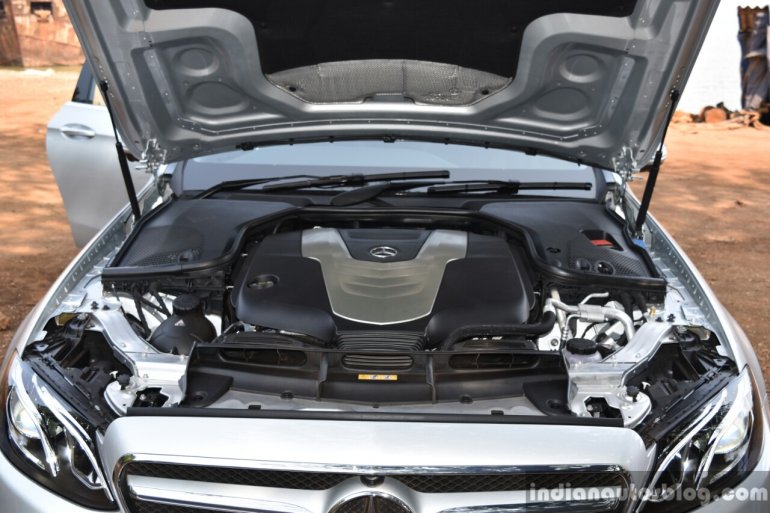 Behind the wheel, the new E 350d is actually more fun to drive than I expected. It's still not as involving or hardcore as the BMW 530d M Sport, but the E Class' drivability is biased towards comfort than on road performance. Regardless, there are hair-raising moments when you mash the throttle pedal. After all, the transmission is shuffling 620 Nm of twisting force to the rear wheels; it is capable of sprinting from 0-100 km/h in 6.6 seconds.
The NVH is so well tuned that you don't realize you're breaking the speed limit, unless other cars start to look slow. Keep flooring the throttle, and it can effortlessly touch its top speed of a 250 km/h. The new 9G-TRONIC gearbox has notable improvements over the previous model's 7G-TRONIC Plus unit, offering better fuel economy as well as quick, butter-smooth gearshifts.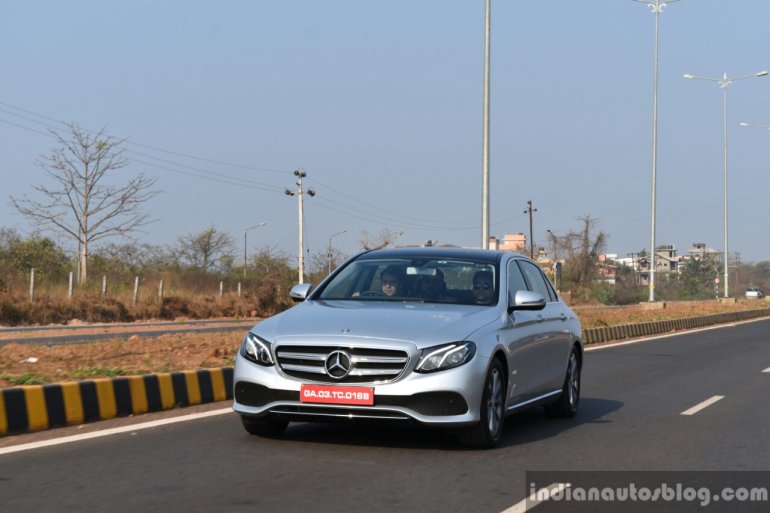 The new E 350d comes equipped with Merc's new AIR BODY Control (air suspension system) with variable damping modes as standard. In its most comfortable setting, ride quality is supple and isolates your bottom from most thuds. As its height is a bit lower than the outgoing E Class, the body can be lifted at low speeds to negotiate deeper potholes and tall speed bumps, leaving those expensive lower body panels unscathed.
Switching to Sport or Sport+ via the Drive Select Toggle, the suspension stiffens slightly, gearbox is more responsive to shift changes and the steering wheel adds more weight at high speeds. Around corners, there is a whiff of body roll, but it's not as unsettling as other long wheelbase, more expensive limousines.
First Impression:
Mercedes may be playing a risky gamble by launching its best-selling sedan in its long wheelbase avatar and asking for an heftier premium for it (expected to cost under INR 70 Lakhs), but we have confidence that it will pay off and become popular among chauffeur-driven and even self-driving buyers.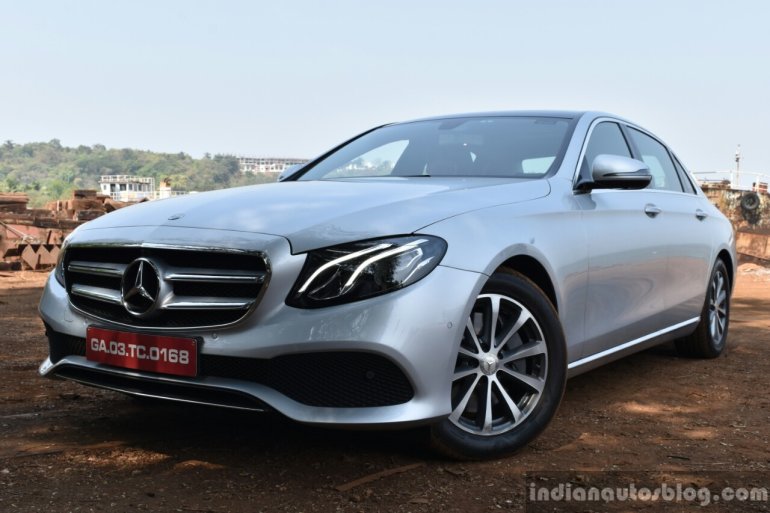 Rather than coming across as an elongated and more sophisticated C Class, the new E Class feels like a value-friendly version of the S Class, one of Merc's most desirable cars ever. This impression will likely hook prospective customers, who wish to experience the essence of a full-fledged S Class at nearly half the price.
It is the first of the three German heavyweights to launch in its latest generation this year, while the next gen BMW 5 Series and Audi A6 are tipped to arrive in 2017 and 2018, respectively. It would be interesting to see if other brands will follow Mercedes' path and launch long wheelbase versions of their established products in India, or stick to the tried-and-tested recipe. For now, the new Jaguar XF and Volvo S90 can be considered as fair rivals to the new E Class.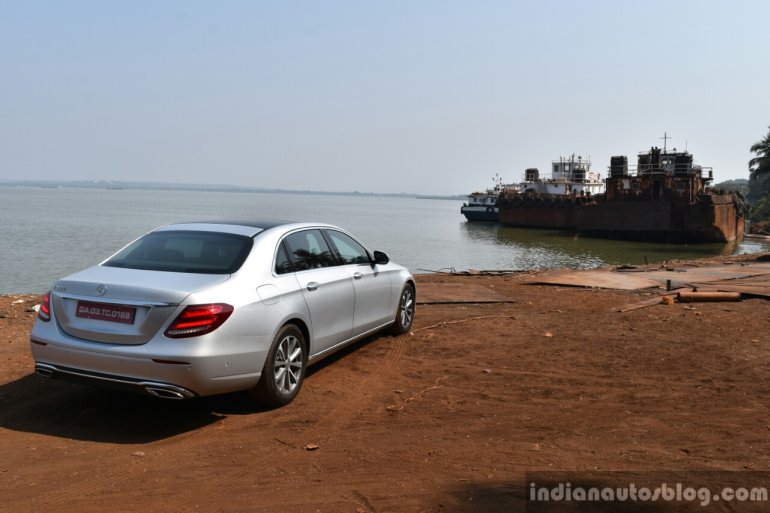 Mercedes India will announce the prices on February 28. Only time will tell if the new E Class will carry forward the success of its predecessors, but I can safely say that it has the chops to become the new king of executive sedans.