Audi's entry-level sedan gets a slight nip and tuck and a new 1.4L TFSI petrol engine.
Thanks to its entry-level positioning, the Audi A3 sedan welcomed many new car buyers to the world of Audi, helping to achieve the dream of owning an Audi for many. For a short while, the A3 was the only compact luxury sedan on sale in India, until the Mercedes CLA arrived in 2015, while BMW is still relying on the X1 crossover to lure customers from the two German sedans.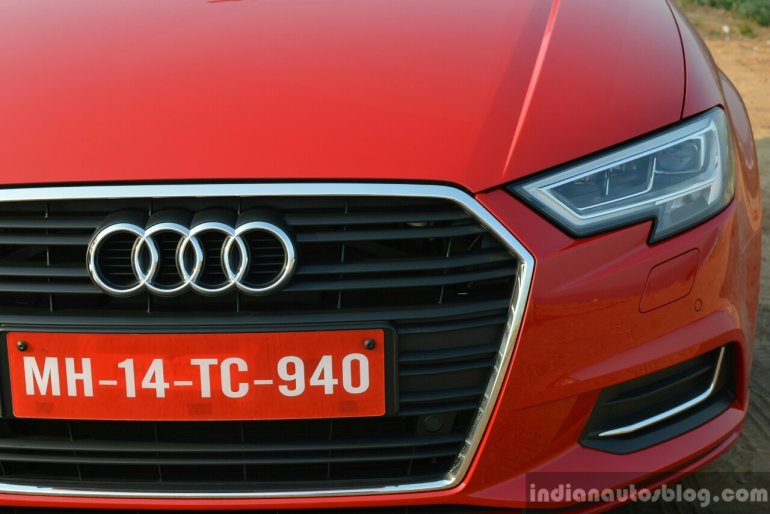 To reinvigorate Audi's smallest sedan in the lucrative segment, the German manufacturer will launch a refreshed version of the A3 soon. Ahead of its launch, Audi invited IndianAutosBlog for a brief test drive in the picturesque city of Visakhapatnam.
It's easy to mistake the new A3's front fascia with that of the latest Audi A4. There are subtle differences to distinguish the new A3, such as a black plastic Singleframe grille and a unique LED DRL design. The taillamps have also been updated to incorporate new LED-illuminated graphics and Audi's cool dynamic turn signal, and it rides on new 16 inch 5-spoke alloy wheels.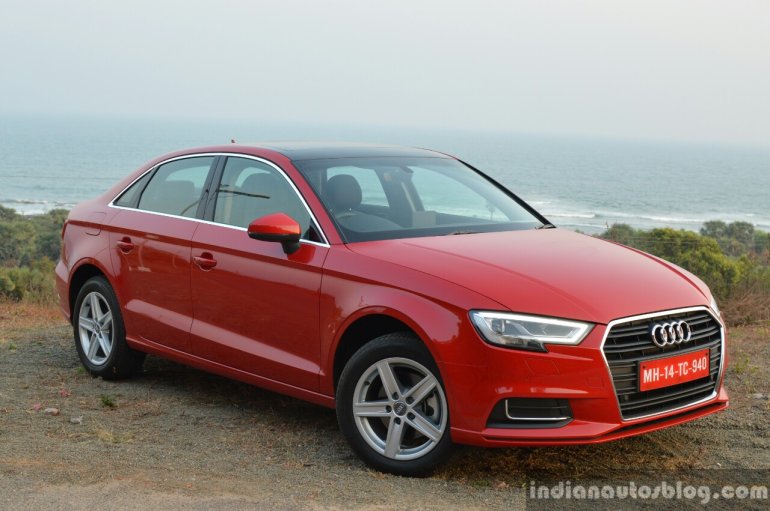 Otherwise, the exterior design is largely similar to the model it replaces. It is not as flamboyant as the Mercedes CLA; instead, the A3 has an understated, 'please all' exterior one would typically expect from Audi.
Inside, the new A3 retains the simple, button-hating design we like, but with few cosmetic and equipment upgrades for a fresher look. The model we test drove had an all black interior with Milano leather upholstery as well as plenty of silver and faux carbon fibre details. Build quality and materials used for most areas are top-notch, although the plastic around the floor console feels a bit cheap.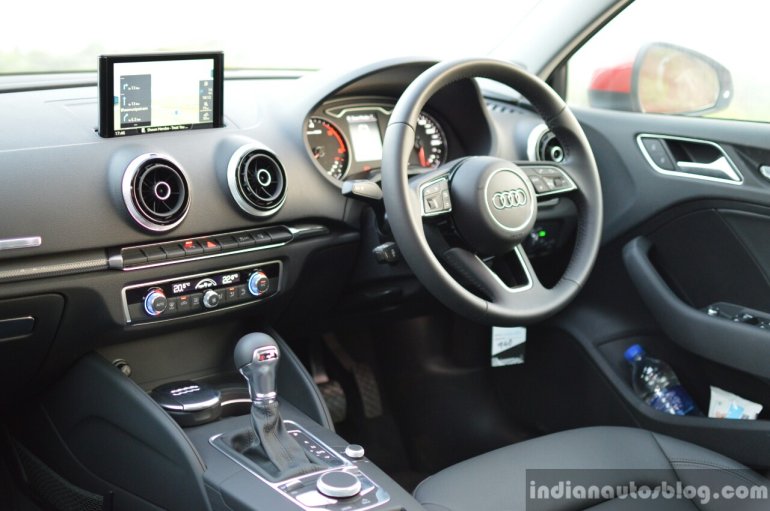 The facelifted A3 drops the chunky-looking 4-spoke steering wheel for a sportier 3-spoke leather-wrapped unit which feels great to hold. Also new are a bezel-free auto-dimming IRVM, and a Qi-compatible wireless charging plate tucked in the 'Audi Phone Box' (under central armrest).
The equipment list still lacks features like a push-button start/stop, steering-mounted paddle shifters, and keyless entry, but compensates with knee airbags, a panoramic sunroof, power-operated driver and front passenger seats, and a dual-zone climate control.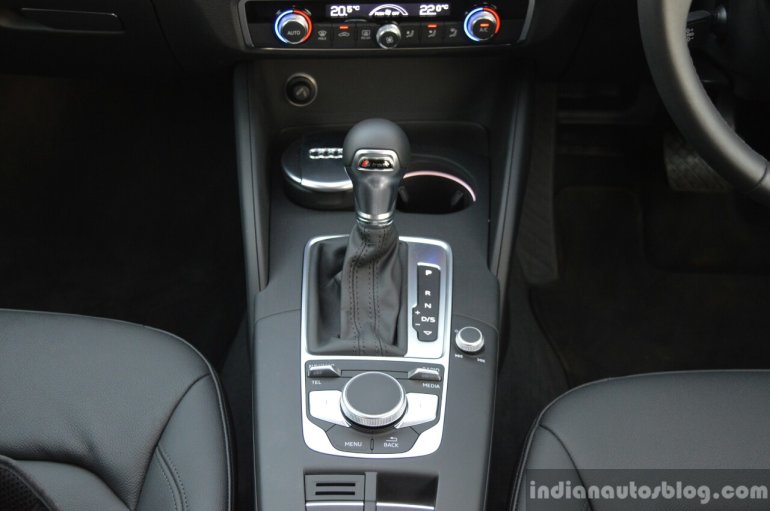 The facelifted A3 sold in other markets can be had with Audi's Virtual Cockpit display, which is not even an option in the India-spec A3. Also missed is Apple CarPlay or Android Auto support options.
A significant change to the A3 is the inclusion of an all-new 1.4L TFSI 4-cyl petrol engine paired with a 7-speed DSG gearbox, which replaces the potent 1.8 TFSI motor. It is 30 PS less powerful than the latter, producing 150 PS and 250 Nm.
What the new 1.4 TFSI motor has going for is fuel efficiency, while not compromising on power. Audi claims that it can average 19.2 km/L - around 3 km/L more than the 1.8 TFSI. It comes equipped with a segment-first Cylinder On Demand mode, which cuts down two cylinders under low load conditions, such as cruising on a highway at regular speeds. The transition is seamless and not perceptible; still feeling as refined as with 4-cylinders on. A slight push of the throttle fires up the shut off two cylinders.
Being acquainted with the 1.8 TFSI motor, the new 1.4L TFSI feels as refined and has the turbocharged punch at low speeds. On empty highways, the A3 petrol can easily reach law-breaking speeds, although it doesn't feel as eager or aural as the 1.8 TFSI at higher rpm's.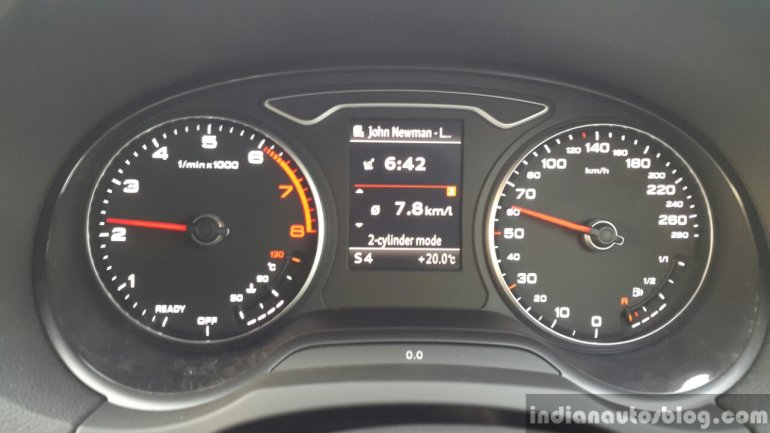 The diesel variant keeps the familiar 2.0L four cylinder TDI motor, which outputs 143 hp and 320 Nm of torque. It is paired with a 6-speed DSG automatic gearbox and is capable of averaging 20.38 km/L. Unlike the petrol variant, the 2.0 diesel unit doesn't get Cylinder On Demand due to its complexity.
There's so much torque available right from a low rpm that you can sometimes hear the front tires spinning for grip even when you don't mash the throttle to accelerate. Once it finds grip, the A3 diesel swiftly picks up speed and is a slightly better mile muncher than its petrol counterpart.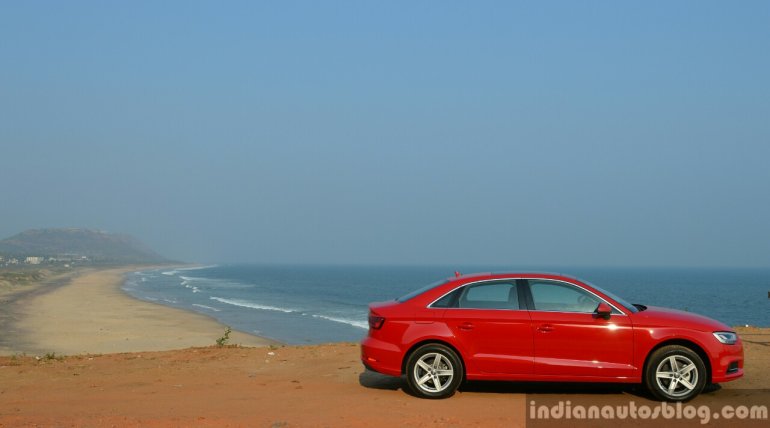 As for suspension, the A3 retains the McPherson struts and Multilink setup at the front and rear, respectively. It has the right balance of plushness and road holding capabilities, which works well with the A3's powertrains. Should you feel a bit adventurous, you can turn off the ESC and ASR for more fun around corners.
First Impression:
Driving the facelifted version in Visakhapatnam reminded my why the Audi A3 is, personally, one of my most favourite Audis of all time. Yes, it may be Audi India's entry level product, but the A3 is simple, compact, comfortable and has the driving spirit of an eager chihuahua. Of course, its elder siblings are better appointed and more powerful, but there's something about the A3 that appeals to me.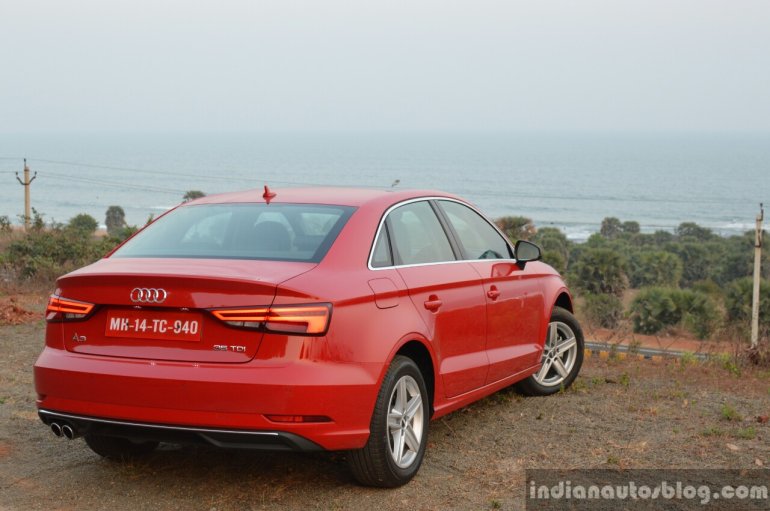 Bigger or older families may not reciprocate the same interest I have for the A3, as space and practicality are not its strong suits. Instead, the A3 is more of a driver's sedan with a few extra doors and seats to accommodate people.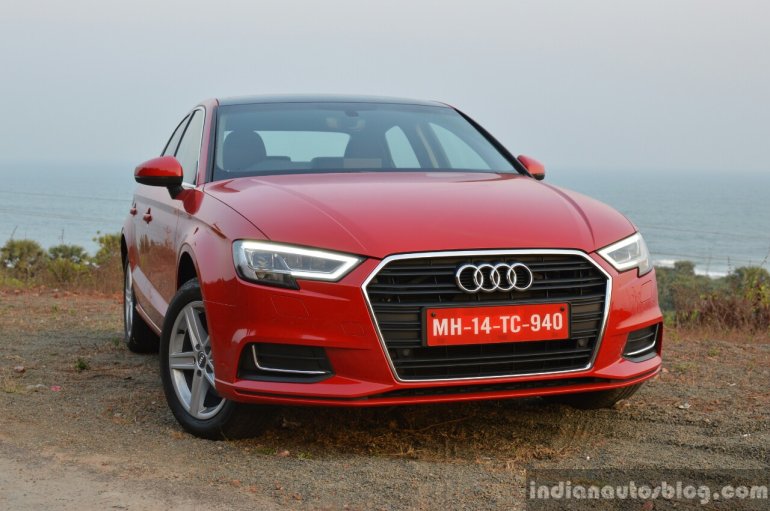 The A3 makes sense to buyers who are single or have young families, and wish to own a car from a luxury car manufacturer that is compact, decently equipped, has enough power and is exciting to drive. With the smaller 1.4L TFSI, fuel efficiency is now another selling point Audi can add to the list.