Likely to give pure EV range of 30 miles (48.2 kms)
The 2016 Toyota Prius has been caught without no camouflage by SpiedBilde in Malibu where it is thought to have come for a photo shoot prior to its Las Vegas debut on September 8.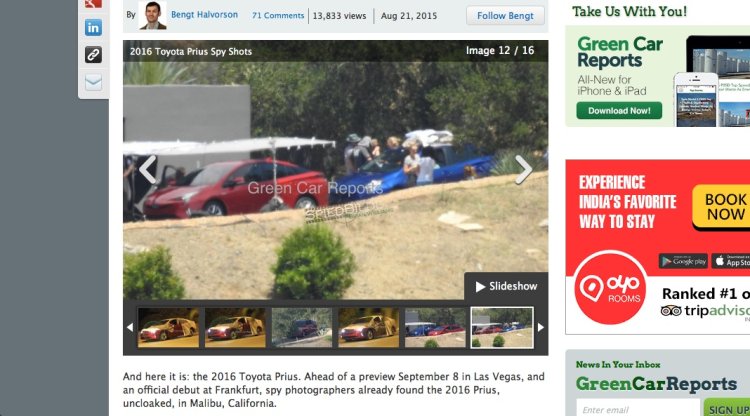 The new model still gets four doors and a sloping roofline. The rear C-pillars are blacked out adding to the impression of a floating roof. A prominent shoulder line can be seen emanating from the rear doors and they get wider, finally culminating in to the tail lamps. The front end seems closer to the Mirai fuel cell vehicle, which was launched late last year. Overall the 2016 Prius looks far more sporty and futuristic than its predecessor.
The 2016 Prius will get an updated version of the Hybrid Synergy Drive system that will reportedly feature a bigger 1.8-liter gasoline engine producing 150 bhp. The gasoline unit will be paired to the two electric motors through a CVT gearbox. Reports say that the new offering will have more than 30 miles (48.2 km) of pure-electric range and offer a mileage of over 30 km/l.
Like the exterior, the interior is also likely to transform radically. Addition of more equipment is expected like an improved infotainment system and a possibly a wireless cellphone charger, claim some reports.
[Head to GreenCarReports to see the spyshots]
Credit: Brian Williams / SpiedBilde