Was tested at a speed of 64 km/h.
Global NCAP has also crash tested the 2016 Mahindra Scorpio alongside several editions of the Renault Kwid. Like the small car, the Scorpio too has scored 0/5 stars in AOP (Adult Occupant Protection) and 2/5 stars in COP (Child Occupant Protection).
[YouTube link]
The Scorpio used for testing was not equipped with ABS or airbag. Aside from the base S2 and S4 trims, all variants of the SUV are equipped with ABS and dual front airbags however.
Global NCAP notes that protection offered to the driver's head and chest was poor and the passenger's chest received marginal protection. The passengers' knees could impact with dangerous structures in the dashboard, and the bodyshell is rated as unstable and cannot withstand further loadings, according to the testing agency. There is also "high probability of life threatening injuries for at least one of the adult passengers", says Global NCAP.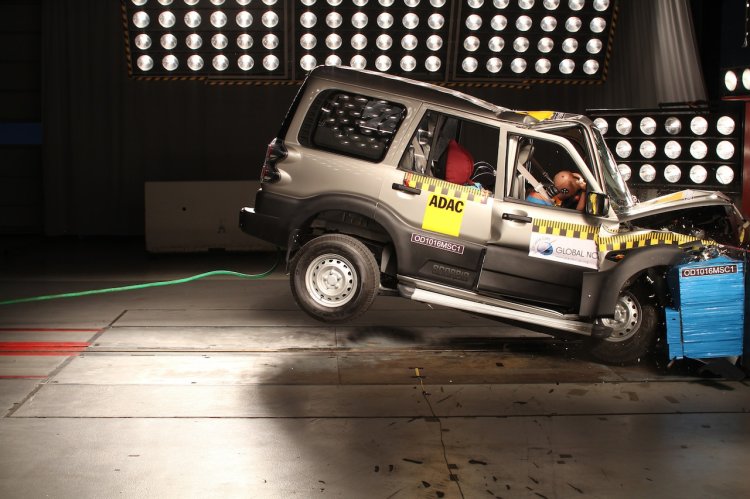 This is the third time an international testing body is evaluating the crash-worthiness of a Mahindra product. In June 2012, the Mahindra XUV500 was subjected to the Australian NCAP (ANCAP) prior to its launch in the continent. The monocoque SUV scored 4/5 in the ANCAP ratings. Prior to that, the Mahindra Scorpio Getaway (Mahindra Pik-up) scored 2/5 stars in the ANCAP ratings, and was subsequently upgraded in 2012 to score 3/5 stars.
Mahindra Scorpio Global NCAP Crash Test Result
[Slideshare link]