Volkswagen may have technological marvels like Bugatti Veyron in their portfolio. But when it comes to earning bread and butter and keeping the cash register ringing, nothing can beat the mass market products such as the beloved Volkswagen Polo. The VW Polo was first introduced way back in 1975 and since then 5 generations have passed on.
The current Volkswagen Polo was showcased in 2009 at the Geneva Motor Show. It won the prestigious World Car of the Year award in 2011. But when we visited the Chakan plant in 2010, we learned that Volkswagen has already started work on the successor.
Thanks to AutoBild.de, we have a rendering of the next generation VW Polo inspired by the VW Cross Coupe design study revealed at the 2011 Tokyo Motor Show.
What do we know about the next generation Volkswagen Polo?
The next generation Polo will ditch the VW's A0 platform in favor of the ultra flexible MQB platform.
The next generation Polo will be five centimeters longer in the wheelbase but the dimensions will remain the same. This means that the VW Polo will not appear bigger in size but the cabin space will be improved
VW plans to shave 36kgs of the current weight of the Polo for the successor. The weight loss will result in better fuel economy and improved performance.
The engines will feature the expensive Active Cylinder Technology (ACT). This technology will deactivate two of the four cylinders if not required. It helps to improve the fuel economy as well as lower the emissions.
The engines (VW's new EA211 range) will be more powerful while providing higher fuel efficiency.
Volkswagen will also launch a high fuel efficiency Polo hatch with a plug-in hybrid powertrain.
Thanks to the new MQB platform, VW Group will save a lot on research and development. As a result, one can expect some luxury features being trickled down from the more expensive Jetta and Passat models.
The next generation Polo is expected to be launched in 2015. VW India is going to make massive investments in the Chakan plant to make it compatible with the MQB platform so the 2015 Polo can roll of the line.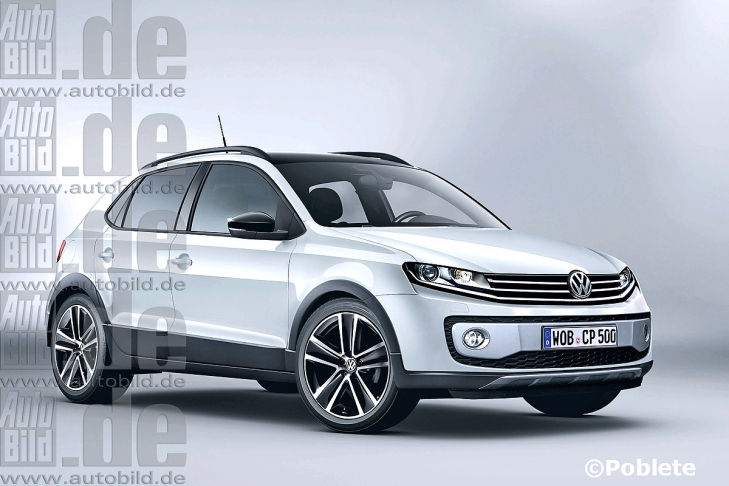 Besides the next generation Polo, rumors are also rife that the VW group is also planning a Compact SUV based on the Polo to rival the likes of Renault/Dacia Duster. The new Compact SUV will be a fully fledged SUV and not something like a Cross Polo. It will be available in 4X4 and 4x2 versions and is expected to be launched in 2016.
[Rendering courtesy: AutoBild.de]