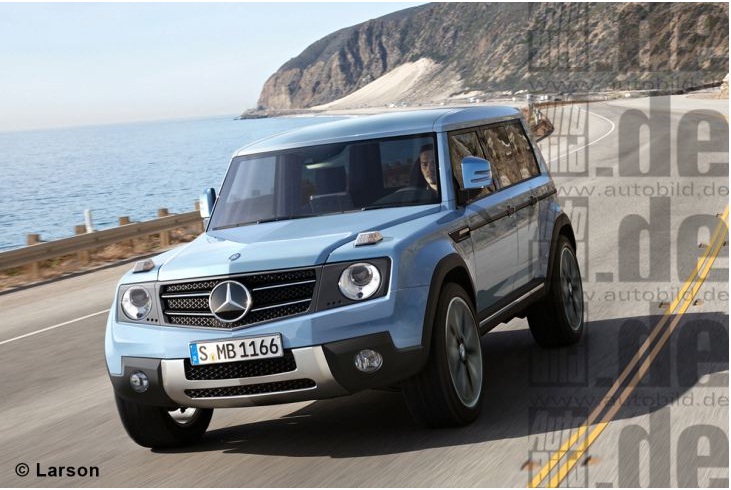 Stunned? Yes, us too. News comes in from Germany that Mercedes is planning an all-new product line and a very innovative one at that. The German automaker wants to create a miniature G Wagon based on the A Class's MFA platform.
Expected to be called the GLG, this new compact SUV plans to encapsulate the history and legacy of the G Wagen and present it to the modern urban youth.
Do not confuse the GLG with the GLA Compact SUV being the developed to take on the BMW X1 and Audi Q3. The GLG will be a very niche offering with a boxy design influenced from the G Class.
It will have a wide track, an extended wheelbase with front wheel drive. This SUV will be designed to 'look' like a thorough off roader but will only be able to handle muddy meadows and snowy roads.
A dedicated off-road version with Mercedes's stellar 4Matic technology will also be on offer. It will consist of an off-road package with hill descent control, dedicated 4x4-driving program, skid plates and a compass.
The Mercedes GLG will be offered in both petrol and diesel versions. Petrol fire power will range from 122 hp - 350 hp in the AMG version while the diesel fire power will range from 136 hp - 204 hp. A hybrid with two compact electric motors on the rear axle is also under consideration.
The new GLG SUV is expected to hit the stands in 2015 with a price tag of 32,500 Euros (around 22 lakh INR)
Mercedes mentioned that it is going to use the A Class platform extensively for future products. However, the developments emerging on the GLG SUV is completely out of the blue!
The new GLG will be a very interesting and innovative offering from Mercedes's stable after a long time. Neither BMW nor Audi have a legendary SUV like G Wagen in their portfolio to come out with a rival. The Mercedes GLG will offer something more than just value for money. Its only rival could be the revival of the Land Rover Defender, which will be manufactured in India.
We can't wait to see this new baby G Wagen in flesh. Can you?
[Source: Autobild.de]