At the 2013 Shanghai Motor Show, we were shown the Mercedes Benz GLA Concept. Mercedes previewed what their BMW X1 challenger would look like through this concept, while a production GLA Class is expected to grace the Frankfurt Motor Show this September or thereabout.
In this video, a YouTube user named 'Fingerzdxb' has caught two GLA prototypes while they were being transferred in car carriers, somewhere in Dubai.
[Can't see the video above? Head over to YouTube]
You can easily see how the overall shape of the prototype remains true to its concept form. The GLA Class is based on the A Class platform (the MFA - Mercedes Front Wheel drive Architecture). The coupé like rear roofline and the small windows are a la A Class, and we can say that even though there is a lot of camouflage on them.
The Concept GLA shown at Shanghai had some new and never before seen features. The headlights of the concept had projectors built into them and you could project a movie on a wall, whilst watching it inside the confines of the GLA's air-conditioned cabin! The roof mounted lights had HD cameras inside that could record the scenery as you drive through them!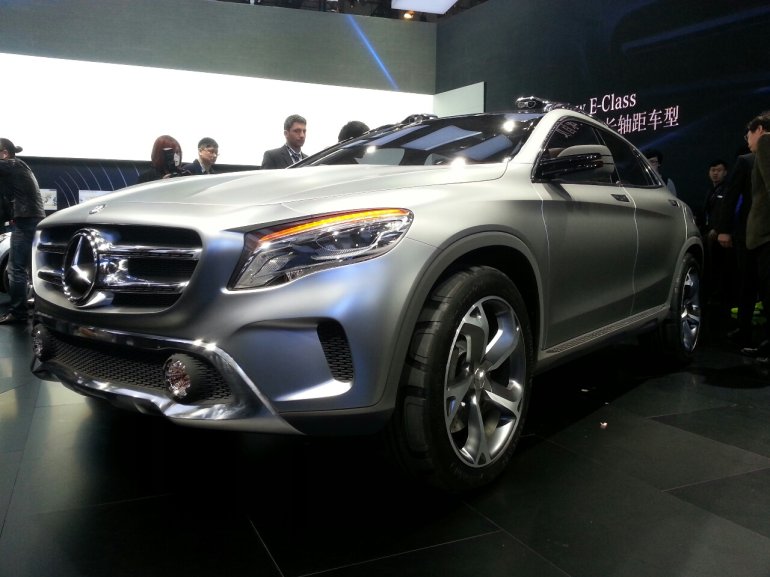 We're not sure if those features would be carried forward to the production version, but they are very good ideas.
What we're sure of is that the car borrows a lot of parts from the A Class including the engine and the 7-speed dual-clutch gearbox. The higher spec variants of the GLA would also have the 4MATIC all wheel drive system in them.