Part 1 of our comparo sees the new Maruti Swift take on its main rivals - the Hyundai Elite i20 and VW Polo - and its sister product, the Maruti Ritz. These cars account for the major chunk of sales in the premium hatchback segment, and the Hyundai and the VW especially saw recent updates.
2015 Maruti Swift vs Rivals - Diesel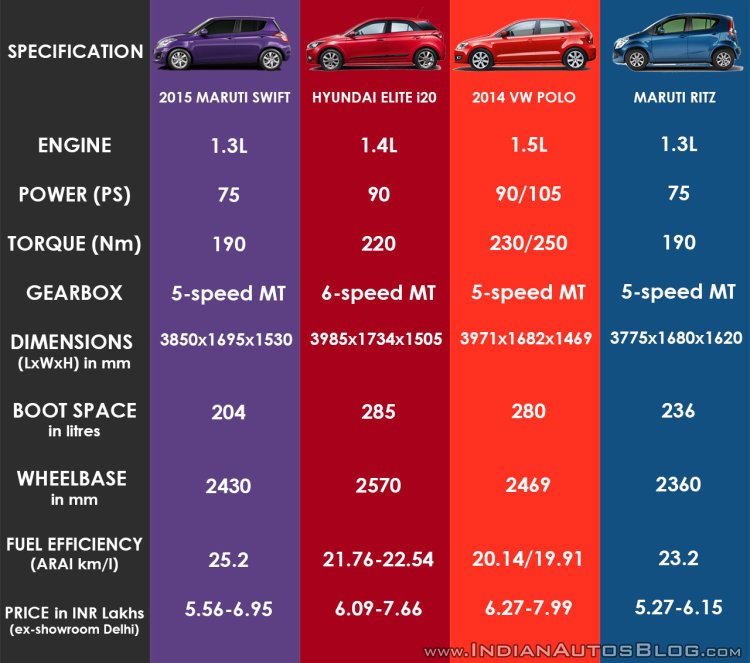 The Swift facelift is unchanged on the dimensions front. Hence, the longest car is the Elite, the widest is the Elite and the tallest is the Ritz. When it comes to wheelbase, the Elite i20 is a good 101 mm longer than the Polo, and 140 mm longer than the Swift. Comparing the boot volumes, the Swift is the smallest at 204 liters, whereas the Elite has a large 285 liter trunk followed by the Polo's 280 liter.
Comparing the diesel variants first, its easy to see that the new 1.5-liter VW engine (offered in states of 90 PS and 105 PS) is the most powerful and torque-iest of the lot. On paper, the Swift and the Ritz are the least powerful and produce the least amount of torque. The Marutis excel in the fuel efficiency department, with the new Swift returning a class-leading 25.2 km/l, and the Ritz at 23.2 km/l.
The Elite, which is the only car to get a 6-speed gearbox in the group, finishes third, while the Polo comes last.
2015 Maruti Swift vs Rivals - Petrol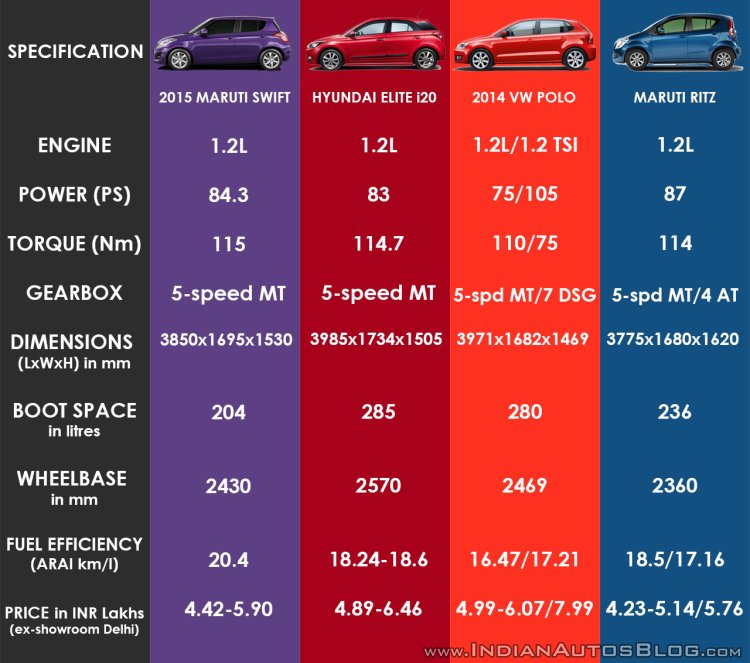 Coming to the petrol variants, all cars are powered by a 1.2-liter engine, and the Polo can be had with the jaunty 1.2 TSI as well. Keeping aside the TSI which makes the most power of the lot, the Elite, Swift and Ritz are evenly matched producing between 83-87 PS. The naturally aspirated 1.2-liter engine in the Volkswagen makes the least amount of power and torque though.
The detuned nature of the Polo's engine doesn't help it in the efficiency department where it returns the lowest efficiency. The TSI, thanks to its 7-speed DSG, puts up a better show, even beating the Ritz AT which comes with a 4-speed AT. Otherwise, the crown once again goes to the Swift in this department, followed by the Elite i20.
In terms of price, the Ritz is the cheapest while the Polo is the most expensive. The new Elite is about INR 50,000-60,000 more than the Swift, which doesn't seem a lot when factoring into account the features and superior build quality it offers.
The VW Polo deserves a special mention in this comparo as it is the only candidate that offers standard driver airbag across all variants.