After bringing in the Rexton facelift, Ssangyong is getting ready to put their next product in front of the world.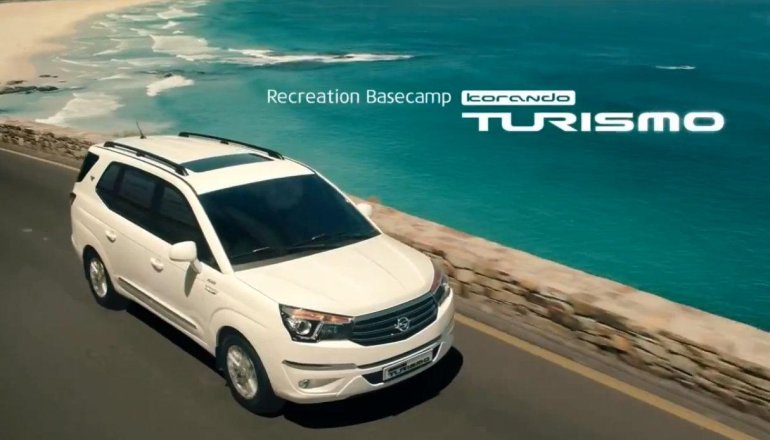 Called as the 2014 Korando Turismo, you may better know it as the Ssangyong Rodius or Ssangyong Stavic. Essentially, it is a 11 seat MPV of gigantic proportions.
On the face of it, you can easily tell that Ssangyong went back to the drawing board to re-work the design of the Rodius. The predecessor was designed by Ken Greenley, former head of automotive design course at Royal College of Art in London and was shockingly the most ugliest car of its time. It took Ssangyong two years to re-work the Korando Turismo to make it took more robust and premium.
[can't see the video above? Head over to Youtube]
This mega-sized MPV will be available with a choice of 7, 9 and 11 seats. The sheer size makes the Korando Turismo look more like a mini-bus than a traditional MPV.
Ssangyong prefers to call the Korando Turismo as an MLV (Multi Leisure Vehicle). It is pitted as the perfect vehicle for a large family that enjoys outdoor activities.
It will be powered by the same 2.0 litre oil burner that does duty in the Korando and the Actyon. It is expected to generate 155 hp and 360 Nm of torque.
A 3.2L petrol engine will also make a home under the hood for petrol dominated markets. All-wheel drive can be confirmed thanks to the above Youtube advertisement.
[can't see the video above? Head over to Youtube]
Mr. Anand Mahindra, the head honcho of Mahindra & Mahindra - the current owners of Ssangyong - tweeted yesterday that he is excited about the Korando Turismo's potential in the Indian market.

Ssangyong recently introduced the Rexton SUV in India and immediately it showed signs of a healthy future. India being a nation of diesel crazy SUV-lovers, it was quite expected that the Rexton would fare decently well. But the Korando Turismo is a bit complicated.
To start with, the Korando Turismo barely has any competition in India. You cannot compare it to the Innova or the Evalia because these are just 7/8 seater MPVs with 2WD. The Korando Turismo is a massive 11 seater MPV with 4WD. The only competition that we can think of is probably the Force Motors' upcoming MPV which is based on the Mercedes Viano.
The bigger worry is the price. The Korando Turismo is a feature packed product that will mostly be priced on the higher side of 20 lakhs, quite possibly alongside or above the Rexton SUV.
How many Indians would want to buy a 11 seat MPV sporting a relatively new badge that commands a very high price tag?