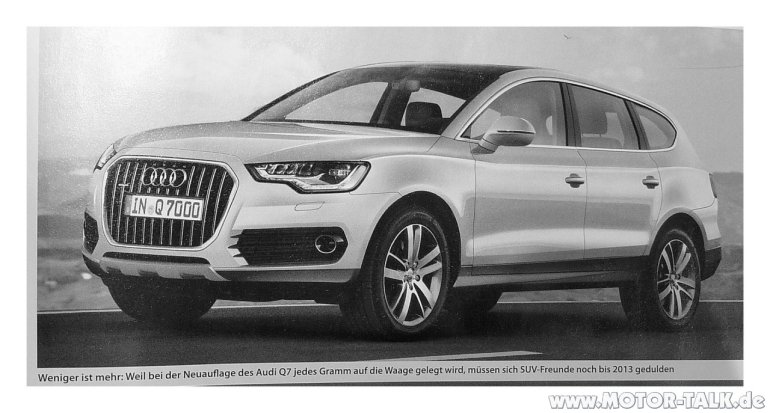 Last week we showed you the first pictures of the second generation Audi Q7 due in 2014. The test mule shared the same body of the current generation of Q7 but it was parts from the new model being tested beneath the body and revised technology like heads-up display, night vision and an evolution of the MMI undergoing trails.
The engine on the mule was a V12 TDI, according to the spy shooters with its wing extensions suggesting more width on the future Q7. Specific headlights are present, suggesting the presence of 100% LED headlights as on the new Audi A6, A7 and A8.
Our friends at MOTOR-TALK have released a rendering of the 2014 Audi Q7 featuring a new headlamp cluster with 100% LED lights, Hexagonal Grill with extra chrome highlights and more muscular sidewalls. The shape and size of the windows are also different.
The new Audi Q7 will be based on the MLB platform which will be followed by the future models of the VW Touareg and Porsche Cayenne.
In case you missed the Audi Q7 test mule spotted article – Click Here.
[Source - Motor-Talk.de]