The 2014 MINI has been in the limelight since the year began. Camouflaged test mules of the new car have been doing extensive test runs across Europe and China resulting in copious flow of spyshots!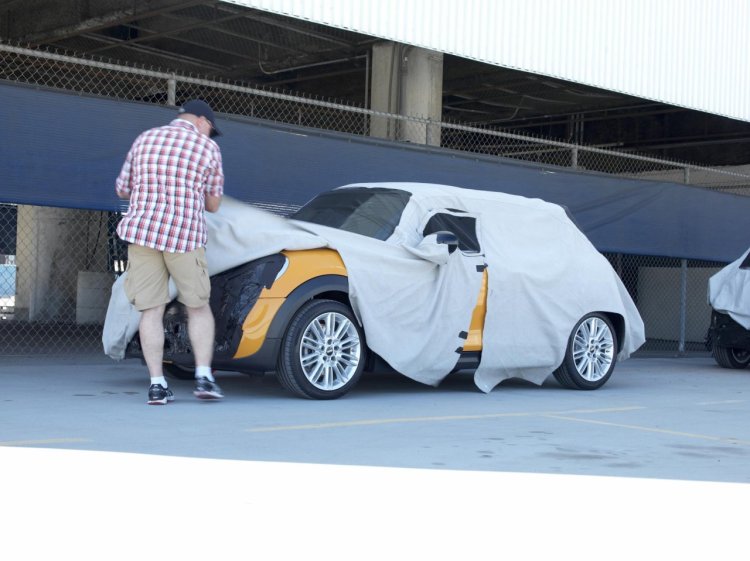 Here is another one which was taken in the UK and guess what, it is published by none other than MINI itself!
Well, understandably Mini is not flattered by the prying camera lenses of the test mule hunters. The iconic British small car maker has published a press release stating that "it is not the British way to send such unfavorable pictures around the globe" after a set of shots showing the car with nil camouflage hit the internet yesterday.
The BMW owned marque is comparing the next gen MINI with British Royal family, actors, footballers, top models and other celebrities who had to put up with paps who catch them off guard, most of the times in a compromising position!
Here's an excerpt from MINI's statement -
The published pictures do not reflect our good looks any way. As every celebrity knows, those extra long telephoto lenses have the devastating ability to negatively distort all surfaces, lines and angles.
The next gen Mini will grow in size and will be available in both 5- and 3-door configurations for the first time. The entry level model is expected to be powered by BMW's downsized 1.5 litre 3 cylinder turbocharged engines while the performance oriented Mini Cooper would employ a bigger four cylinder engine.
The company says that the Mini will be unveiled shortly and invites the photographers to come closer to their object of desire then! We reckon that the global premiere could take place in Frankfurt Motor Show in September.
Head to Page 2 to read the full statement from MINI.
Press release issued by MINI hitting out at sensationalist paparazzis
[Can't see the document here? Head to Scribd]