What you see in the picture is the final form (or very close to the final form) of the next generation 2014 Mini Cooper hatch spotted testing without any covers in its standard Cooper and Cooper S avatars.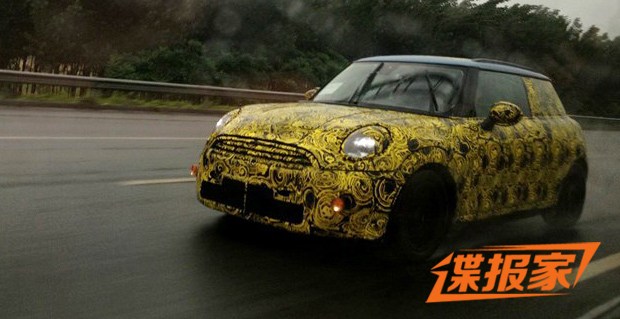 But for the 2011 Rocketman concept inspired daylight LED lamps running along the circumference of the headlamps, the 3rd gen Mini hatch is unmistakably a Mini and carries over signature-Mini design cues like the grille, blacked out pillars all around, chrome garnishes, matte finish wheel arches/skirts and even the rear bumper.
The 2014 Mini is said to have grown in size and the car appears more voluptuous curvier than the current Mini. The large rear tail lamps only add woes to the visual mass at the rear end. The glasshouse on the other hand has become sportier thanks to the aggressively raked windscreen and and reduced greenhouse width at the rear.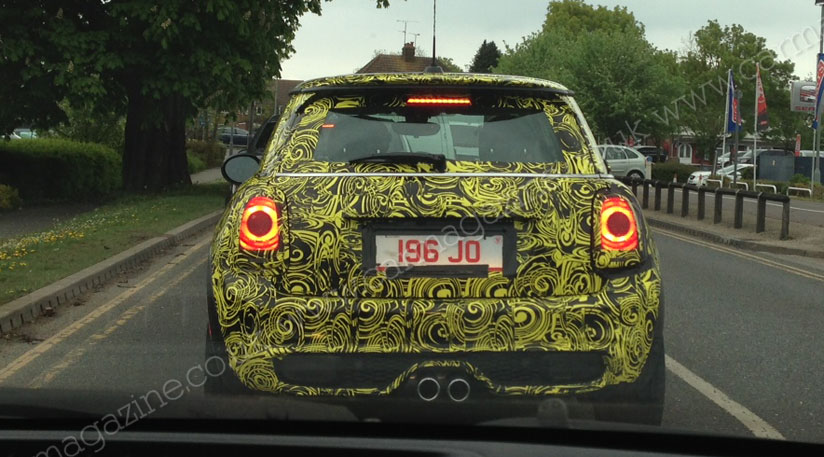 Months ago when some leaked pics showed the sporty interiors of the Mini, expectations soared high for the next gen model to look brash and sporty but the opposite has happened.
Head here to view the Uncamouflaged Images of the 2014 Mini
The upcoming hatch has curves and bulges and the design seems to have mellowed down resulting in what looks like a lovechild between a Mini and a lost goldfish (possibly the color of the test mule gives it away). Mini  has clearly gone in the direction opposite to the one which Volkswagen had taken for the new Beetle.
However the interiors are not going to disappoint at all. The instrument cluster has moved back behind the steering wheel making space for the infotainment system adorned by the big circle on the center stack equipped with color changing LEDs for ambient lighting. One interesting feature that caught our eye was the presence of an extra information cluster unit (in the grey Cooper S) ahead of the steering wheel, this could possibly be a heads-up display unit.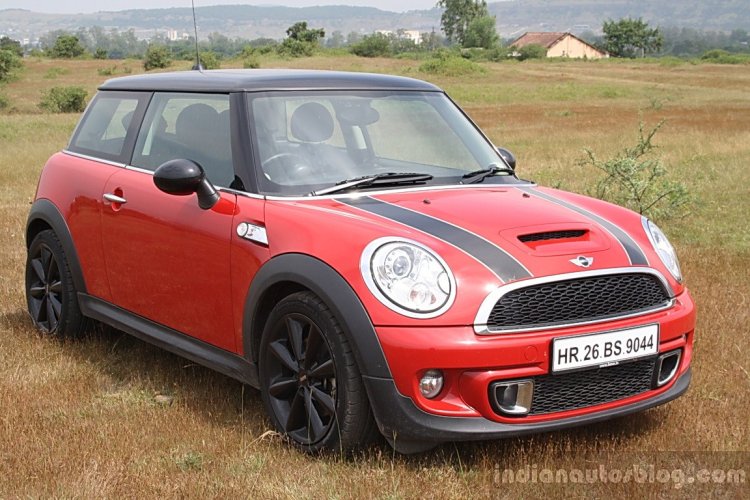 The standard Mini Cooper (the red one) and the Cooper S, both have a hump on the hood but only the Cooper-S get the air intake scoop on the bonnet.
The 2014 Mini would be riding on top of the new front engine front wheel drive UKL architecture shared with the upcoming BMW 2-series and Active Tourer MPV. The engines powering the new Mini are expected to be BMW's new range of 1.5L turbocharged 3-cylinder motors. This generation of the Mini is also speculated to be launched with a diesel engine in the future.
The 2014 Mini would be unveiled at this year's Frankfurt Motor Show in September.