The 2014 Mercedes-Benz S Class has just been launched in India. In India, the new S Class competes with the Audi A8, BMW 7 Series and the Jaguar XJ. All these cars have their respective long wheelbase versions which are sold in the country and our specification sheet gives you an idea of how the S Class variant launched today stacks up.
As Mercedes have only launched the petrol variant of the new S Class, we have included the similarly specced variants of its competition. From Audi, we have the A8 L 4.2 FSI, the 7 Series is represented in its 750Li guise and the XJ is seen in its 5.0-liter supercharged form.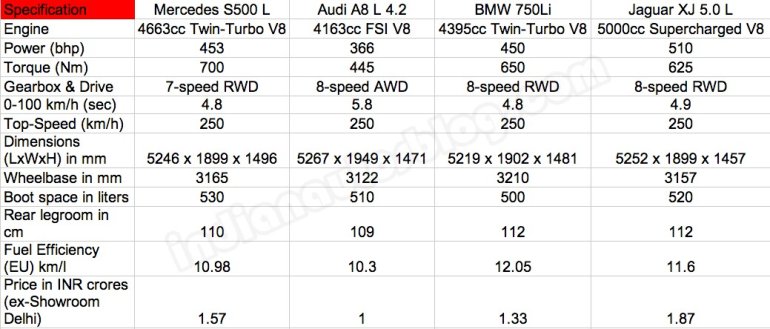 As far as the engines go, the Audi is the least powerful of the lot producing 366 bhp from its 4.2-liter motor. The BMW and the Merc are similarly specced, while the Jag sports 510 bhp. Apart from the S Class which gets a 7-speed transmission, the competition sport an 8-speed unit. The Audi is the only AWD model here.
All cars sans the A8 will do the 0-100 km/h run in less than 5 seconds, though the top-speed of these four luxury sedans is restricted to 250 km/h.
In terms of wheelbase, the 7 Series has a generous 3,210 mm long wheelbase, while the S Class comes in second at 3,165 mm.