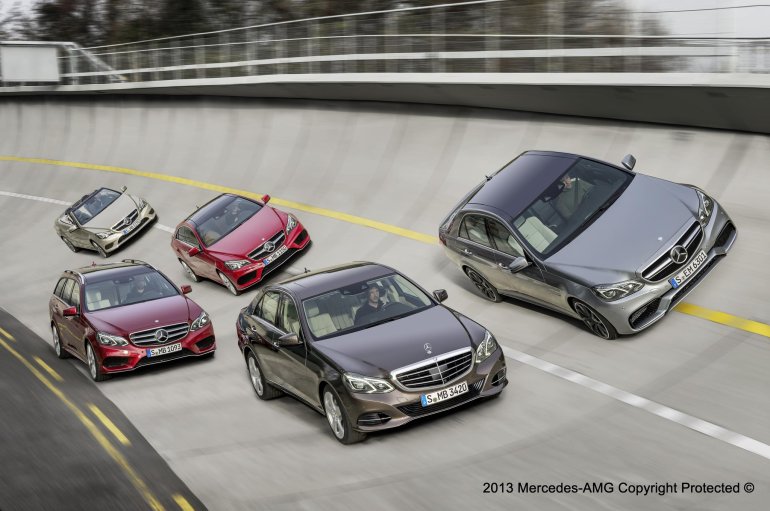 Mercedes Benz today uploaded a family photograph of the 2013 Mercedes E Class on its Facebook account, previewing the E63 AMG variant for the first time.
The Mercedes AMG page moderator uploaded the image shown on the left, with the caption "Only few more days until the world premiere in Detroit! How do you like the new design?"
Mercedes has previewed or digitally launched the new E Class range in installments. First came photographs of the sedan, followed by press shots of the sporty Coupe and Convertible variants.
Visually the E 63 AMG differs markedly from other family members. It sports an aggressive body kit, a contrast roof and dark alloy wheels, a single slate grille divided by a black separator, a boot spoiler and a lower ground clearance. Overall interior upholstery seems similar to the other variants from the angle that Mercedes has shot this image, although the front seat does have a special emblem on the lumbar support and is in two-tone.
Mercedes will plonk a twin-turbo 5.5-liter V8 engine under the bonnet that can make approximately 550hp and about 720 Nm of torque driving the car to 100kph from a standstill in under 3.5 seconds. The top speed could be electronically limited to 250kph.
The 2014 Mercedes E63 AMG would come with all wheel drive (4MATIC in Mercedes speak) specially in the American market while the rest of the world would have to be content with two-wheel drive technology.
The 2014 Mercedes Benz E Class family will be on view at the NAIAS (Detroit Auto Show) next week. Mercedes have confirmed this model's launch in India for 2013.
[Source - Facebook.com]