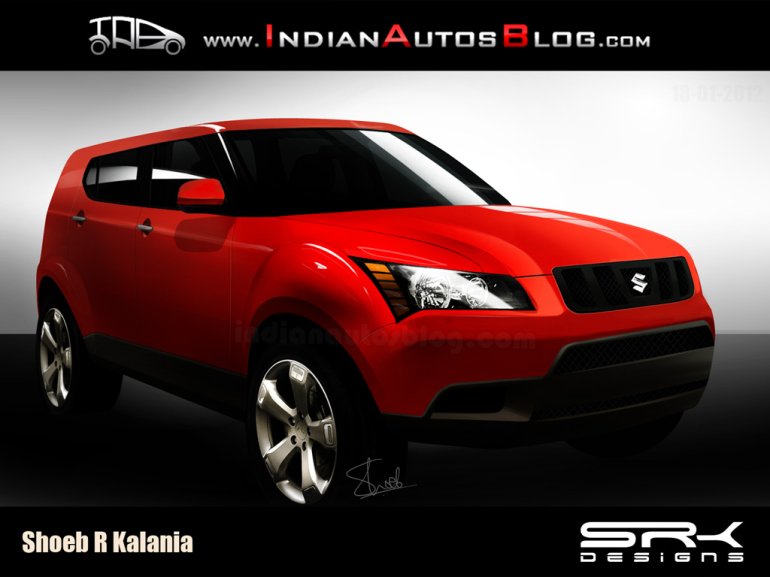 Maruti may have not yet finalized the configuration for its mini SUV that relies on the XA Alpha Concept shown at the recent Delhi Auto Expo for its directions, but our image editor Shoeb R Kalania has picked it up and predicted the outcome already.
Maruti Suzuki's concept cars need not be taken very seriously. The A-Star concept and R3 concept shown at the previous two editions of the Delhi Expo have shaken off most of their signature touches by the time they arrived at a production line.
The primary reason behind this is cost. Maruti products have to be high value for money and their game has been in the sub-10 lakh rupee category. The cost constraints have somewhat made Maruti divert attention to features and technology from expensive designs. Over the last thirty years, Maruti has not offered outlandish designs. They prefer designs that are silent and functional. This maybe a reason why their cars age quickly.
Our wish is the production model of the XA Alpha concept needs to defy this ideology. We predict Maruti will redo the Ertiga - Pick out parts from the Swift's bin and this time build a sub 4-meter model. They need not look beyond Gypsy for branding. This car is a perfect gap filler between the Dzire and SX4. Remember that Maruti has signed an agreement with Tata-Fiat for three lakh diesel engines over the next three years. This could have been prompted by the demand predicted for current and future compact vehicles.
The XA Alpha may not be on time considering 2012 is the beginning of the mini SUV era in India. The good side of the situation is that Maruti can find out what's missing on the Duster and Ecosport and offer them on the 2014 Gypsy.