The 2014 Hyundai i10 doesn't seem to take any chances as it continues to test rigorously in South Korea, India and Europe.
The current i10 is a hugely successful small car and it passes a heavy responsibility to its successor. Hyundai has been improving the overall product appeal with every new model and that makes us expect more from the next gen i10.
The car is bigger than the current i10 and has completely new front and rear fascias. While the front end would bear some resemblance to the Fludic Sculpture designs, the rear end still keeps us guessing. Hyundai particularly takes meticulous care in hiding the rear fascia of the test mules suggesting there is something new and interesting in there!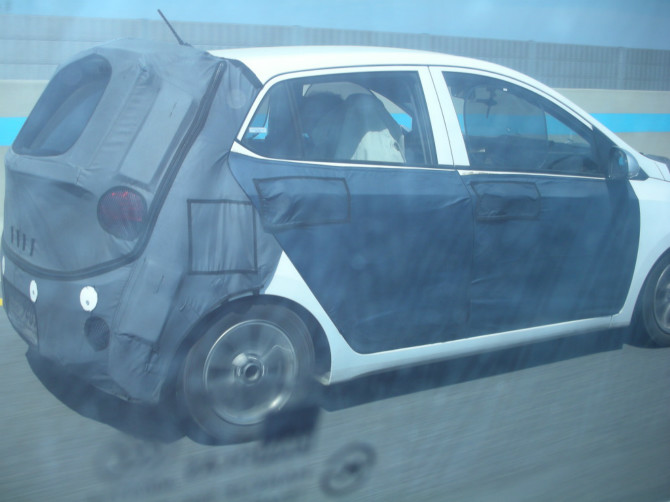 From the spyshots that are posted in Bobaedream.co.kr, we can observe that the model spotted in Korea has the same rear quarter glass panel shape as the mules spotted in India. However, the European version seems to have a smaller rear quarter glass.
What makes the next gen i10 all the more appealing is the diesel engine. The 1.1 litre three cylinder CRDI engine produces 75 bhp and is available in the UK spec Hyundai i20. The 1.2 litre Kappa petrol engine will continue with some minor tweaks.
Read our exhaustive coverage on the 2014 Hyundai i10
Reports suggest that the new i10 would be launched in India even before it's global premiere at the 2013 Frankfurt Motor Show.
[Source: Bobaedreams.co.kr]