The Honda Jazz is spacious, well built and comfortable, but an ambitious pricing had ensured that the hatchback never really realized its complete potential in the sub continent.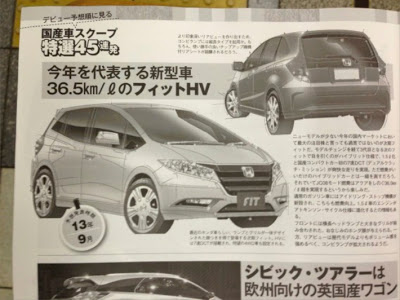 However, the 2014 Honda Jazz (called as Fit in some international markets) promises to offer more, importantly it could come with a diesel engine. There were many speculative renderings of the next gen Jazz and here is the latest one to join the line.
A Japanese magazine called "Mag X" has come up with their version of the new hatchback which bears close resemblance to an earlier rendering released by another Japanese magazine. The closeness could mean that the renderings are considerably accurate.
The next gen Jazz would have a completely new appearance. The front fascia is characterized by an imposing grill which is titled by a prominent chrome element bearing the Honda badge. The headlamps are long, narrow and are swept back while the steeply raked front windshield remains unchanged.
A large window area of the current car gives a sense of space and airiness to the cabin. The next gen model would inherit this quality but the overall shape of the greenhouse gets more stylish. The rear adopts a new approach, going by the rendering. But let's wait and see what Honda's designers have to offer!
The 1.5 litre i-DTEC diesel engine which debuted in the Amaze could well find its place under the hood of the Indian spec Jazz. That would make it an able contender in the sub continent.
The next gen Jazz is expected to make its global debut sometime later this year.
[Source: Jp-cardesigncorner.blogspot.in]