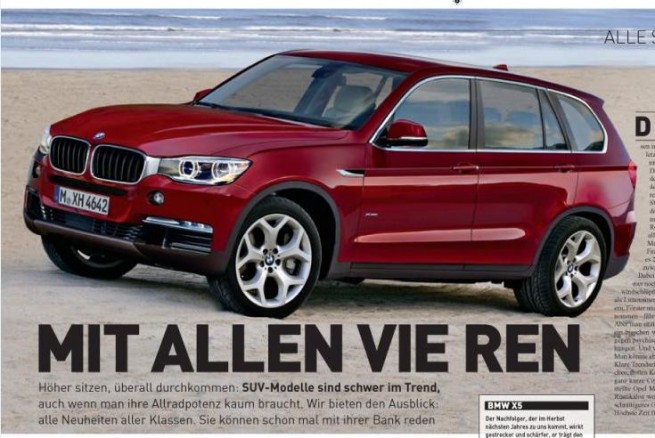 Our good friends at Auto Zeitung have managed to snap up some details of the upcoming BMW X5. They have compiled all the information that they got from BMW into a very neat rendering giving us a glimpse of the upcoming SUV.
As one can see, BMW is all set to extend the design language of new BMW 3 Series to its other products.
The headlamps of the new X5 take their inspiration from the new 3 Series but the SUV gets a much bigger and broader grill. The headlights are expected to use the new LED technology that BMW is all gung ho about. The tail-light assembly will also be redesigned using the layering concept as seen on BMW's Vision EfficientDynamics concept.
The 2014 BMW X5 is based on the F15 platform, which is a modular platform that allows BMW to build multiple cars on the same base (on similar lines of the MQB platform from VW)
The new BMW X5 will be powered by an improved range of both petrol and diesel units. It will also have an ActiveHybrid model with a 2.0 liter four-cylinder diesel engine mated with a 15 kilowatt electric motor. The new BMW X5 will make its world debut in 2013 with sales commencing later in the year.
[Source: AutoZeitung.de]