Skoda has flown a bunch of journalists to Portugal and handed them camouflaged test vehicles of the next generation Skoda Octavia for a preview drive.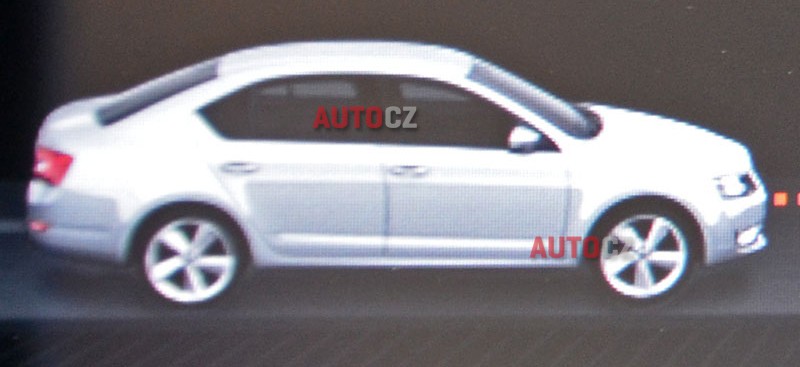 Our friends at Auto.cz were in that group and they've returned with a rich purchase of photographs and specifications.
Auto.cz were shown the car without masking but were not allowed to click photographs. But when the journalists were flipping through the infotainment system of the smartly cloaked test mules which they drove up to a top speed of 170kph, they came across this digital image of the car, that gives away its side profile.
As you'd know by now the new Octavia is based on the MQB Platform. When Skoda introduces this model in India, hopefully next year, it'll also launch the MQB Platform in India which will underpin 40 models from the VW Group till about 2018.
The new Octavia is just weeks away from its public unveil.
Features and thrills in the 2013 Skoda Octavia
It has a 590L boot, just 5L short of the Superb's, and is a massive 4.65m long.
The wheelbase is stretched by a significant 10.8 cm compared to the outgoing model, improving space at the rear.
Turbocharged petrol engines displace 1.2-, 1.4- and 1.8 liters, while the two diesel motors displace 1.6L and 2.0L. Their outputs extend from 84hp to 177hp and each engine has lower fuel consumption.
There's a 5-speed manual, 6-speed manual and a 6-speed DSG based on the variant you choose.
Some of the features summarized in this preview drive report are 17-inch wheels, driver fatigue detection system, steering mounted controls and 3D color graphics on the LCD infotainment system.
A lot of inspiration and soft components have come from the European Rapid. Check the steering wheel, central console and the doors to find traces of the Rapid's parts inventory.
The new Octavia will reach the Czech market (home market) by February 2013 and Skoda hopes to make it one of the top 10 best sellers in the world one day soon.
Can the new Laura pull a fast one on the Chevrolet Cruze and Hyundai Elantra by playing the value card?