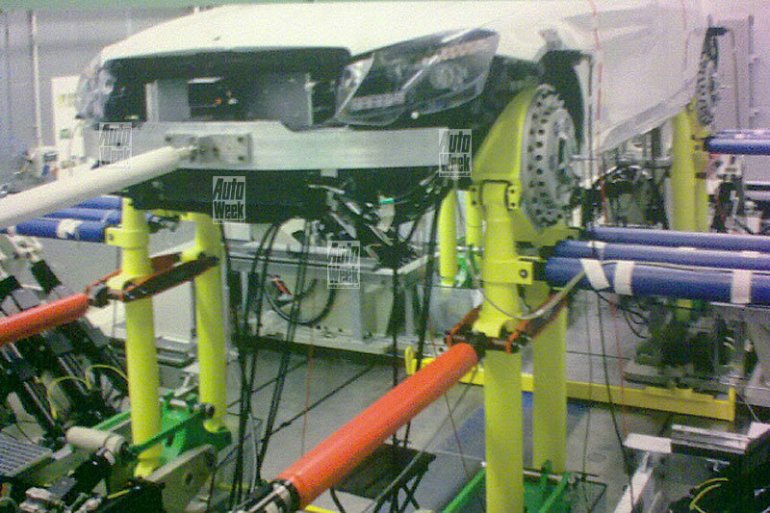 AutoWeek Netherlands has published an image of the new S-Class (learn why we call it the time machine) undergoing static (suspension?) tests in a lab. The flagship limousine (code - W222) is devoid of components except for the body panels and LED headlamps.
As it is a closed environment, testing was conducted in the absence of any camouflage. The new S-Class is expected in 2013 and real world testing is on in full swing.
The currently running S-Class was unveiled in 2005 and since then has received powertrains and variants. In India, the S-Class will receive upgraded engines this year.
Styling cues on the replacement model will come from the F700 and F800 concepts showcased at motor shows in the past few years. We're going to see the new S-Class with markedly different design. Unlike Audi and BMW, the limo will not seem like a longer and fatter sedan from lower down the portfolio. Instead Mercedes could take the top-down approach by dramatizing the S-Class on the next generation C- and E-Class models.
Built using Mercedes' new MRA (Mercedes Rear-wheel drive Architecture), component set, the technology will be altogether at another level. One of the highlights of the replacement car will be MBC (Magic Body Control) that sets up the rear suspension for an approaching adulation after analyzing digital inputs from a camera mounted up front.
Technology will be utilized to minimize passenger discomfort over bad roads. A SERVO-HMI (Human Machine Interface) virtual operating assistant is also likely on the new model, details of which are not clear.
The new S-Class will get marine style seats and materials will be remarkably better than the outgoing S-Class. There are reports going around the internet that an all-electric S-Class could join the hybrid and petroleum fuel powertrains. We'll have to wait for a bit longer before every detail becomes clear.
2013 S-Class testing on ice
Source - AutoWeek.nl
Certain details derived from CAR Magazine's report.
Video Credit - GMotors.tv