We'd love to be in such a situation everyday - getting to see prototypes of the next generation Mercedes S-Class (the automotive industry's time machine) in various trim levels and different stages of development - in a brigade!
[can't see the video above? Head over to the Youtube page for viewing]
Youtube user Luca84, while driving his Mercedes Benz along the freeway with a couple of friend (which model is he driving?) in Freiburg, a city in Baden-Württemberg, Germany, spotted six 2013 Mercedes S-Classes (W222) testing back to back.
Luca's powerful Mercedes (listen to the soundtrack of that exhaust!) was able to keep up with the convoy and there was nothing the future car drivers could do about the rolling camera.
The new S-Class could be presented either at the Paris Motor Show in September this year or at the Geneva Motor Show in March 2013.
The model that interests us is the long wheelbase version (that is currently assembled and sold in India) which should come soon after the regular wheelbase breaks cover. Plenty of variants are being planned on the S-Class platform including a super-luxurious sedan that will take the place of the retiring Maybach 57.
Mercedes is said to have made startling progress on the interior trim and the driving assistance technologies. A Mercedes lead engineer was heard saying the car will do the driving so that drivers can focus on other things. Crazy!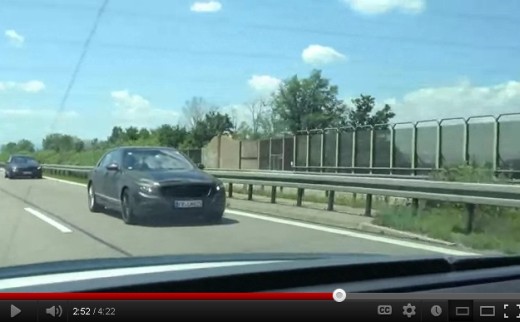 We hope to see the new S-Class launch in India during Diwali next year or at the 2014 Delhi Auto Expo.