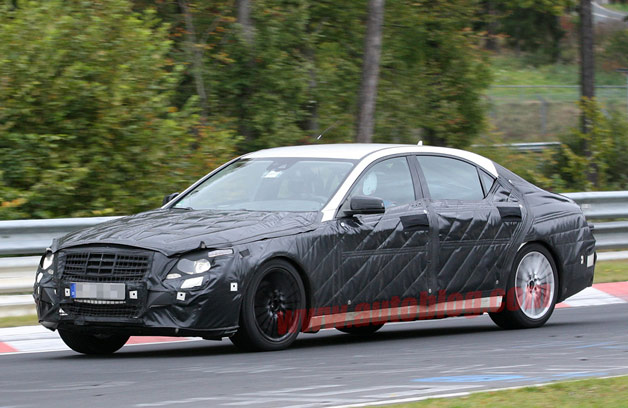 It has been a long time since we had an update on the 2012 Mercedes S Class. But a fresh set of spy shots have come to us straight from the Nurburgring where the so called 'Time Machine of the automotive industry' is doing its testing.
James May will not be happy man ;)
These new spyshots reveal a lot of interesting stuff about the new S Class. The front fascia will ditch the old design language to adopt the new one which will be on the lines of the F800 concept.
The new design language is already being adopted on other models such as the CLS and SLK. The headlamps will be more rectangular and the front grill will be more wider and brawnier. Expect a generous dollop of LEDs to grace the front. Overall, it will much more classier than the model it replaces.
Inside, as always, the new S Class will host a range of technologies that no one has ever heard of but will be the norms of the future. As the same time, Mercedes has confirmed that the new flagship sedan will be the most plush S class ever. The company is looking at a blend of silk and cashmere to lighten up the inside.
Expect frugal versions of the current engines to power this future S Class. Mercedes is also planning
A twin turbo 4.6L V8 with 429 HP
A twin turbo 5.5L V12 delivering 510 HP
A twin turbo 5.5L V8 generating anywhere between 536 HP and 550 HP for the AMG version.
A Hybrid version with a direct injected V6 engine with a 60 HP electric motor for an impressive fuel economy of 74 mpg
The current spyshots also reveal that most aspects of the S Class have been finalized. But Mercedes will continue to test the S Class throughout next year and the debut is only expected by the end of 2012 or early 2013.
[Head over to AutoBlog.com to see more spy pics]