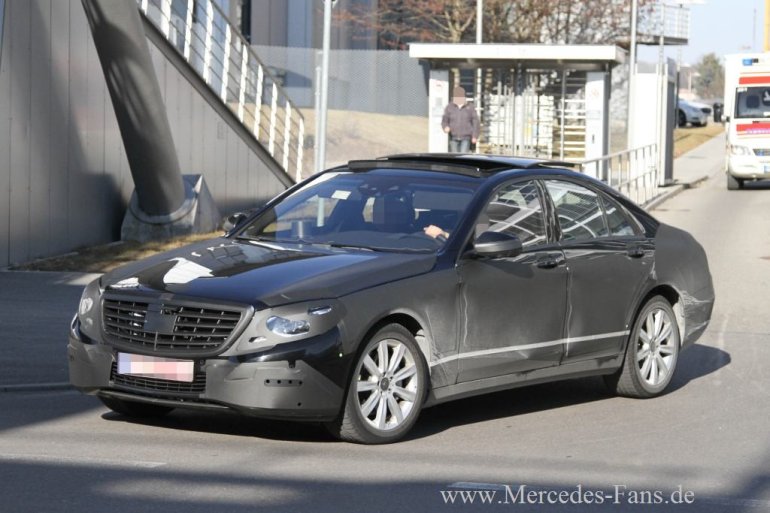 Our friends at Mercedes-Fans.de in Germany have managed to scoop the upcoming S-Class shedding the quilted camouflage. The new S-Class will be seen for the first time in late 2012. We expect Mercedes Benz India to launch it in the second half of 2013 when the long wheelbase model is ready.
Codenamed W222, the new S-Class is the time machine of the passenger car market with new enhancements in driving aids, active suspension system, material and design used in the interiors, infotainment system, etc.
The S-Class is expected to lead the way in every major on-board electronics system that will find its way to smaller cars in the future.
According to media reports, not even a single switchgear or controls have been carried over from the current model. In other words it is a clean sheet design.
The spyshots reveal the proportions of the new S-Class have not changed. The bodywork is completely new and follows the design language used on the new generation A- and B-Class models. A more upright grille, swept-back headlights, more muscular character lines and interior developed with inspiration coming from the F800 concept are going to transform the S-Class to reach the same level as the newly launched Audi A8 or the more recent 7 Series.
Mercedes is rumored to be developing more hybrid and pure electric drivetrains for the new S to improve fuel economy and passenger comfort. The short wheelbase variant comes out this year while additions like a convertible and coupe are learned to be on the discussion table.
[Source - Mercedes-Fans.de]