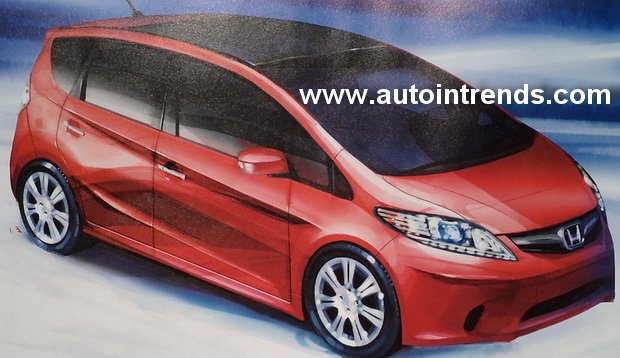 Autointrends.com has carried a speculative rendering of the next generation Honda Jazz/Fit scheduled to arrive next year. The 2013 Honda Jazz could be the first compact Honda powered by a diesel engine. A 1.2-liter, four-cylinder CRDI engine is reportedly in the works (reported first by IndianAutosBlog.com) for compact Honda models such as the new Jazz.
Reports in the Japanese media have explained the design changes through artist renderings. It may not change its outline but detailing could be slick and more aerodynamic. The character lines are sharper, the chrome-bar grille with the Honda emblem is borrowed from the Brio and LED clusters pep-up the headlight assembly.
The daylight opening is largely similar to the current model. There could be a sense of masculinity in the way the bumpers are designed if this report is accurate. As one reads further into the report, the transformation of the Swift comes to mind.
There may not be alterations to the footprint of the 2013 Honda Jazz but performance is expected to improve significantly. The Jazz is among the most spacious hatchbacks not only in India but around the world. It has been lauded for the flexibility the seating arrangement offers and is a smash-hit in the tuning business. Here in India, the price correction is a step in the right direction, but the domination of diesel and breakages in supply lead to the car playing catchup.
Returning to the subject, Honda could have put the Jazz through a strict diet resulting in fuel economy gains. The new Jazz looks fresh and with a diesel engine under works, Honda's assault on the B+ Segment certainly puts the i20 and Swift in a spot of bother.
[Source - AutoInTrends.com]