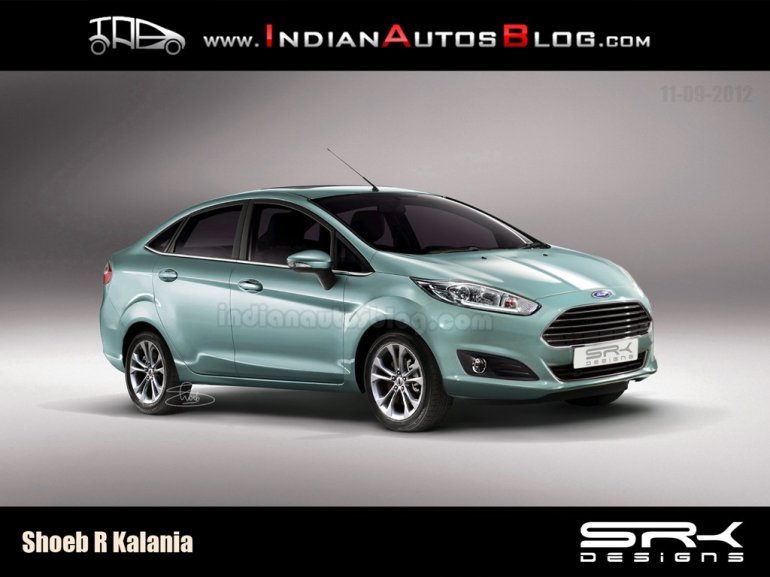 Ford has announced the 2013 Fiesta for a public reveal at the Paris Motor Show that begins on the 29th of this month.
As the makeover is mostly cosmetic and the mechanical changes consist of technologies and components such as the 1-liter Ecoboost engine borrowed from other Ford vehicles, the Blue Oval is not getting very excited about its new wares.
However what surprised us was Ford did not mention anything about the four-door variant. The Fiesta sedan is merely an extruded version of the hatch and hatchback's cosmetic changes can easily be carried over to the bigger car.
Ford, it seems, chose to leave that task to our in-house 'image manipulator' Shoeb R Kalania. Shoeb has welcomed the challenge with open arms and here he is globally premiering the 2013 Ford Fiesta sedan!
The 2013 Fiesta benefits from several technology inclusions such as voice-activated in-car connectivity system Ford SYNC, Active City Stop that prevents low speed collisions, and 'MyKey' that lets parents to set speed and volume limits, and disables audio until the teenager belts up.
Our favorite feature of this collection is the 1.0-litre EcoBoost petrol engine that endows the Fiesta with fuel sipping qualities, to make it the most fuel efficient hatch in its class.
We'll get you maximum details from the Paris Show unveiling, so stay with IndianAutosBlog.com.