In the latest issue of the AutoBild, we find something extremely shocking!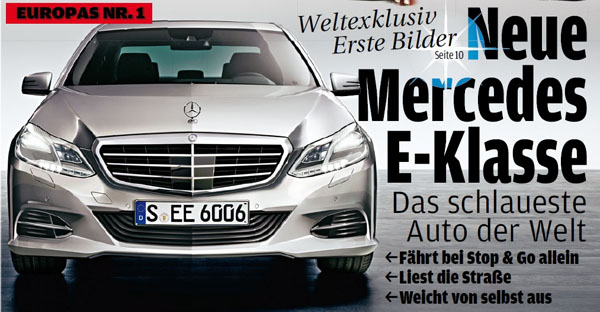 AutoBild claims that this is the face of the of the much awaited facelifted Mercedes E Class and would you just look at that futuristic design!
The facelifted Mercedes E Class (codenamed W212) will ditch the dual barrel head lamps in favor on a single sweptback unit. The DRLs are moved from the lower part of the bumper to the headlights. The front bumper is now more chiseled and features much sharper edges. Two very sharp creases emerge from the all chrome grill which has also been re-designed.
Overall, the front fascia comes across extremely aggressive and sporty. If this is the true face of the facelifted Mercedes E Class, we love it!
A lot farther from Germany, in China, Mercedes has commenced the testing of the long wheel base of version of the facelifted Mercedes E Class.
'Long Wheel Base' – three magic words that are extremely vital for success in Chinese luxury car market. The facelifted Mercedes Benz E-L will debut at Shanghai Auto Show in April 2013 soon after the international launch of the facelifted Mercedes E Class at the Detroit Auto Show in January 2013.
Chinese media speculates that the Mercedes Benz E-L will be either powered by 1.8L Turbo petrol or a 3.0L V8 engine. Prices should start from 4,88,000 yuan (42.67 lakhs INR). Unfortunately, the Mercedes E-L will be restricted to the Chinese market only.
To know more about the 2013 Mercedes E Class head to our comprehensive coverage over here.
[Source: AutoBild.de & Auto.sohu.com]