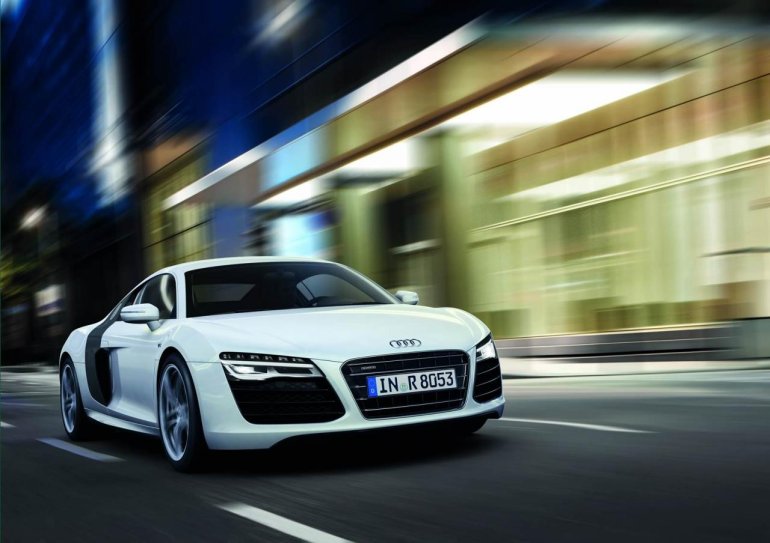 The Audi R8 swept the aficionados off their feet when it was launched about half a decade ago.
The flagship supercar enthused the petrolheads with its breathtaking design and performance and now its time to top up the car's appeal with a facelift. Audi India will be launching the 2013 Audi R8 today and you know where to look for the updates as and when they come.
Five years down the line, the R8 still looks fresh enough and that is the reason why Audi didn't play much with the surgical knife. The headlamps get more sophisticated with LED technology and the turn indicators in the rear tail lamp cluster sweeps outward when turned on.
The front bumper is new with three horizontal slates for the air inlets instead of earlier car's two. There is also an increased usage of Carbon Fiber Reinforced Plastic (CRPF) as the wing mirrors, side blades and lateral air inlets are made of the composite material thereby reducing the weight.
The 4.2 V8 FSI and 5.2 FSI V10 turbo petrol motors are retained but the single clutch robotized manual gearbox makes way for a more responsive 7-speed dual clutch transmission that enables the R8 V10 to achieve a sub 4 second 0-100 kph sprint. The car has a top speed of 314 kph.
Stay tuned to Indian Autos Blog as we will get back to you with the prices and other need to know details about the 2013 Audi R8.