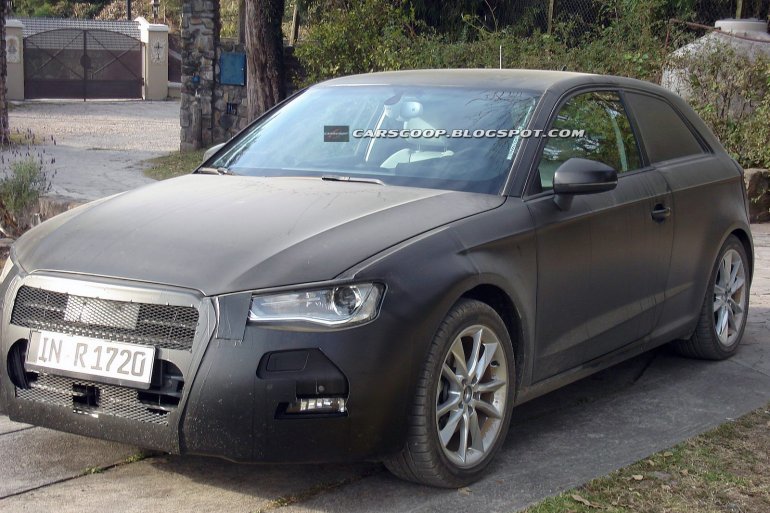 Following recent entries like the A1, A5, A6, A7 and A8, Audi turns focus to the A3. The next generation A3, for the first time, will spawn a sedan variants which comes to India in 2013 to take part in the D Segment shootout. IndianAutosBlog.com had brought you a spy shot of the A3 mule from Argentina on a previous occasion.
Though the A3 mule seen here is wearing a black suit of plastic armor, one need not try very hard to see the final outcome. Just scale down the A4 and you'll know what it looks like!
From the images are you able to identify that the front-end will receive an A5-esque headlamps and a lower mounted hexagonal Audi grill?
Powertrain configuration likewise needs no crystal ball to predict as the existing VW Group diesel and petrol mills will be matched to 6- and 7-speed manual and automatic transmissions. Turbocharged high displacement petrol engines could also be in the mix, but it will find few takers in India as diesel is taking over the passenger car market.
The A3 sedan design study exhibited at the Geneva show in March, was the revival of the A4 from the mid-90's with the aim of playing catchup with the new BMW 1 Series and Mercedes' baby CLS constructed on the MFA kit architecture. The parting shot will be the Audi badge which has tasted big success in India.
Audi India clocked 2010's numbers by the end of July 2011 and is looking forward to bigger things as the new A6 has joined the arsenal and the junior crossover Q3 is eagerly anticipated in 2012. The Audi brand is riding on the crest of a huge wave and an additional economy model will cash in on that healthy brand image.
[Source - CarScoop.Blogspot.com]