Jun 29, 2012 - 6:31pm IST
Filed under Suzuki, Spy pictures, Suzuki Vitara
Suzuki Vitara facelift spotting gives rise to the biggest 'What If' question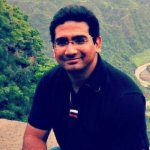 Kaustubh Shinde, They say sooner or later your passion finds you. Sometime in late 2009, I started writing for IAB and ever since then it has been a roller coaster ride for me. An amazing experience that has taught me a lot, taken me to new places, driven some great cars and met some amazing people. When you don't find me on IAB (very rarely), you will find me either at a coffee shop or an eatery or at the nearest gadget store. Hope you enjoy IAB as much as we do!
If you remember the Suzuki Vitara – it was a compact SUV introduced by Maruti Suzuki India to tap the luxury end of the market. Three problems with the launch –
It was only petrol
It was not premium at all
It was massively overpriced
The story ended before Maruti Suzuki could even reach the index page.
Now, a facelifted version of the Grand Vitara was spotted in China featuring
New headlamps
Chrome grill
Redesigned front bumpers
OVRM with turn indicators
Sunroof
While this facelift has hardly any implications on the Indian market, an interesting thought has crossed my mind.
The compact SUV race is about to heat up with the launch of the Duster on the 4th of July. Rumors are circulating that Renault has already mopped up 1,000+ bookings for the Duster. The EcoSport is being tested rigorously on Indian roads and should come by early 2013.
If the Duster and EcoSport are successful, it could invent a whole new segment in India. Maruti Suzuki has not completely bought the concept of a compact SUV and work is still in the nascent stages to make a car. Sure, the XA Alpha Concept snatched some eye balls at the New Delhi Auto Expo but Maruti Suzuki did not comment on when the car will be ready.
But does Maruti Suzuki need to develop a whole new SUV from grounds up? What if the Maruti Suzuki decided to localize the Grand Vitara and find a diesel engine to use?
The Grand Vitara is a very decent urban run around that is competent enough to challenge the Duster and EcoSport spec to spec. The only challenge for Maruti is to price it correctly.
Maruti has resurrected outdated products like the Zen Estilo (an old Wagon R), the original Zen and improved the Alto to introduce the K10 variant, a car that helped the Alto turn into the world's best selling small car brand. Do you remember how the Versa turned into an Eeco, retailing at almost 50% its original price?
It is a fact that some of them have worked and some haven't.
Yes, the idea is a long shot. But would the second incarnation work? How can Maruti work this one out? Do you have any ideas?
[Source - Auto.163.com]