After being spied countless number of times in all its body shapes, BMW has finally taken the wraps of the new BMW 3 series and oh boy is it a looker or what! Finally, after such a long time, BMW designers have pulled a rabbit from their hat. The recent styling efforts of the 7 series and the 5 series have been on the conservative side to appeal to the masses. But that is not the case with the new 3 series. Its back to its roots (and the Chris Bangle era) – Love it or Hate it.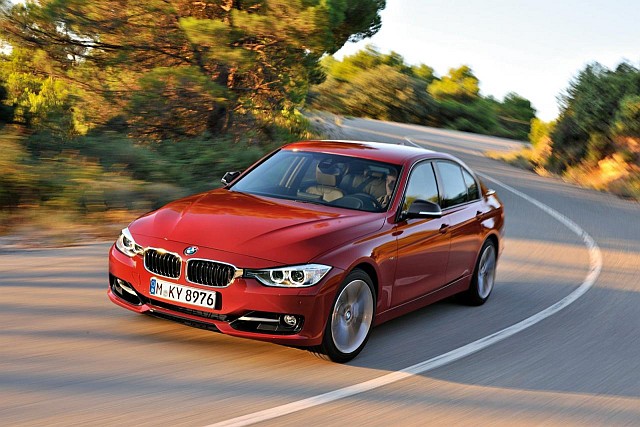 BMW has adopted a very aggressive design for the new 3 series. The most important task for the design team was to get the new 3 series DESIGN in line with its elder cousins, but at the same time make it look like the sportiest sedan in its segment. However, while doing so the designers have inadvertently made the best looking 3 series ever!
2012 BMW 3 Series exterior video
All the finer details such as the low slung nose, carefully sculpted headlamps that integrate into the new wider grill are signs of a design icon in the making. The side profile has not been changed much. The rear tail lamps derive their inspiration from the BMW 'X' models.
2012 BMW 3 Series interior video
On the inside, not many changes have been made to 3 series. It features the traditional BMW dashboard that we see on all BMW models. However, a lot of components from the 5 series are now shared with the 3 series so the new car certainly looks more upmarket.
The platform has also been extended by 3.66 inches to liberate 0.59 inches of legroom and 8mm of headroom as compared to the previous models. Initially, the new 3 series will be offered in 4 variants
Petrol
328i: twin-turbocharged 2.0-liter, 4-cylinder pot generating 240HP and 350 Nm
335i: turbocharged inline-six pot generating 306HP and 400 Nm
Diesels
320d: 2.0 litre CRDI 4 pot with 163 hp
320d: 2.0 litre CRDI 4 pot with184 hp
The F30 will come with a six-speed manual transmission as standard OR an eight-speed automatic. All engines will now feature an automatic start stop to save fuel.
For the Indian market, these are the variants expected next year -
Petrol – 320i (2.0-liter – 152hp) , 328i (3 liter straight six producing between 200-230 hp)
Diesel – (same 2.0-liter four-cylinder engine with two outputs) – 320d (175hp), 318d (146hp)
The new 3 series goes on sale next year in February. Until then you can have a look at these videos and images and fall in love with it.
2012 BMW 3 Series Image Slideshow
Can't see the slideshow above? Head to the 2012 BMW 3 Series Image Gallery to view it.