Last week we brought you a story on the Audi A4 facelift and now we have some more spyshots of the new (well sort of) A4. Audi is hard at testing the facelifted A4 in Germany because the launch is due later this year at the Frankfurt Motorshow. Along with spy pics, here's a rendering posted on Automobile Magazine France.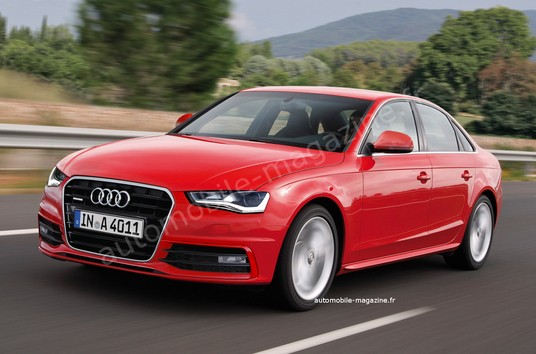 The whole idea of the facelift is to arrange the A4 (sedan and estate) in line with the current generation of Audis such as the A6 and A8. The new A4 will derive considerable inspiration from the 2012 Audi A6. It will sport a restyled grille with chamfered edges. The headlamps will be derived from the A6 as well. The side profile will not change; however the rear will receive a minor cosmetic job. Two things that constitute the car's rear - tail lamps and bumper - could be redesigned to create a mini A6 effect.
On the inside, the 2012 A4 is expected to get Audi's new MMI control system and new luxury features from the larger A6.
There will be some changes to its mechanical side as well with the disappearance of the 2.7 TDI V6 190 hp, which will give way to a 204 hp 3.0 TDI and the arrival of a new 1.8 Turbo petrol. The RS4 version will have 450 hp!
The new Audi debuts at the Frankfurt Motorshow and will enter production in early January 2012.
It would be very interesting if Audi India decides to showcase/launch the A4 at the 2012 Delhi Auto Expo along side the Audi Q3 as the new C-Class would have been on the market by then and BMW' next gen 3 Series (F30) would be preparing for a roll out from the Chennai assembly plant.
[For spyshots head to Automobile-magazine.fr]