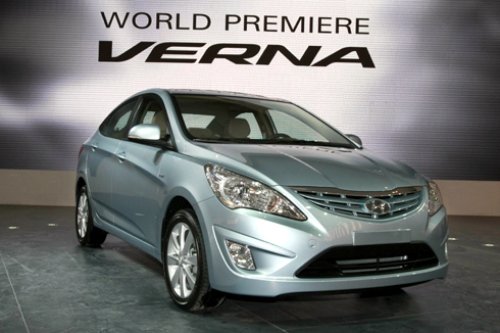 We're not surprised by Autocar India's report on the new Verna's Indian journey next year. Ask our regular readers and they'll tell you how we have been behind this car since October last year, writing about every spyshot that appears online and sharing our views on this model continuously.
Autocar has written the new Verna could be priced between 12-13 lakh, and that isn't the best thing we've heard this year. As we move from one generation of cars to another, especially in India, we simultaneously move to higher segments.
With the launch of the new Verna, Hyundai will be selling three generations of the car (Accent, Verna, new Verna) under one roof. Rumor has it that the Verna Transform (facelifted Verna) will be launched in India by the end of this year, so it definitely is going to stay on for the next few years. The Accent likewise (unconfirmed) will be sold in India, with a petrol engine till 2014.
The Verna at its birth place (Chennai) costs 6.50-9.00 lakh rupees. Selling the replacement model at almost twice the cost (with possibly 1.6-liter twins) isn't a wise idea, and I don't have to explain why. Competing with the likes of the Toyota Corolla, Chevrolet Cruze, Skoda Laura and the Honda Civic with a Verna that's a Sonata wannabe is playing with fire - make no mistake, you will get burnt.
Let us for a moment consider this as the actual price. If the new Verna at 13 lakh is brought in to fight the Civic, what segment will the next generation Hyundai Elantra (Code : MD, in the case of it reaching India) compete in? Is that the Accord/Superb slayer? Then what about the Hyundai Sonata YF? Is that going for the BMW 3 Series?
Isn't someone telling Hyundai that it's about to show everyone what "digging my own grave" means?
Source - Autocar India