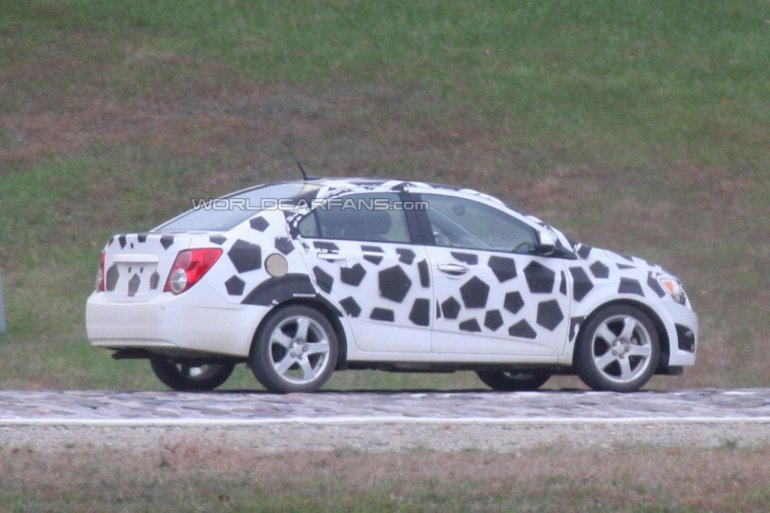 We have been bringing you regular updates on the next generation Aveo siblings. We showed you the first pics of the Aveo hatch that was unveiled at the Paris Motor Show last month. We also showed you the leaked sketch of the Aveo sedan and now we bring you the first spyshots of what is the next generation Aveo sedan.
Caught highly camouflaged in an unidentified location the next gen Aveo seems to have grown in terms of size. The front looks just like the hatch with the twin barrel headlamps, the split Chevy grille and the creases on the bonnet.
The side looks like the Cruze with a coupe like silhouette and the rear has tail lamps very similar to the Beat and the Aveo hatch.
Continuing the family look on the inside, the interior has bits and pieces from the Cruze, Beat and Aveo hatch with the V shape of the dash is predominantly visible.
The Aveo sedan is expected in India with a 1.3 liter Multijet diesel engine with VGT technology that pumps 95 BHP and will be locally produced. A 1.4 liter petrol engine and a 1.6 liter petrol engine with power output of 100 BHP & 116 BHP respectively is also expected.
The next gen Aveo sedan will be unveiled at next years North American International Auto Show and is expected to hit India in late 2011, before the hatch arrives in late 2012. It is a very crucial car for GM as the current Aveo siblings turned out to be a flop. This next gen Chevy should help the company make its presence felt in the C segment.
Stick around to IAB for more on the Aveo siblings.
Source - worldcarfans.com