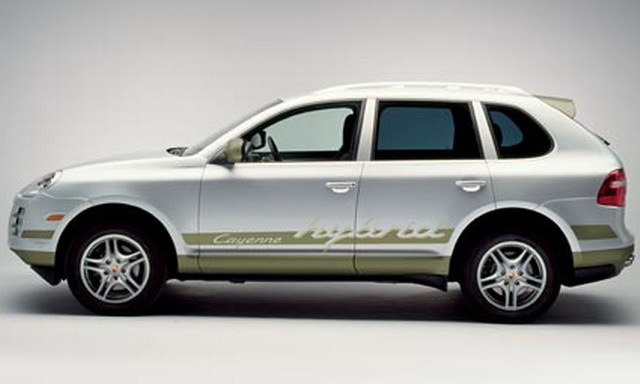 More details on the 2010 Porsche Cayenne S Hybrid have just emerged. The company claims that the Porsche Cayenne S Hybrid will deliver 4-cylinder engine efficiency with V8 performance along with a 20% reduction of CO2 emissions. Sounds 'Green' yet exciting to us.
4-Cylinder efficiency with V8 performance
2010 Porsche Cayenne S Hybrid is powered by
A Supercharged Audi 3.0-liter V6 engine with DFI  Max Power - 333 Bhp , Max Torque - 324 lb-ft
Also equipped with 52-HP, 3-phase synchronous electric motor that adds 221 lb-ft of torque.
86 mph top speed using just the electric motor
The new Porsche Panamera will also get the same hybrid system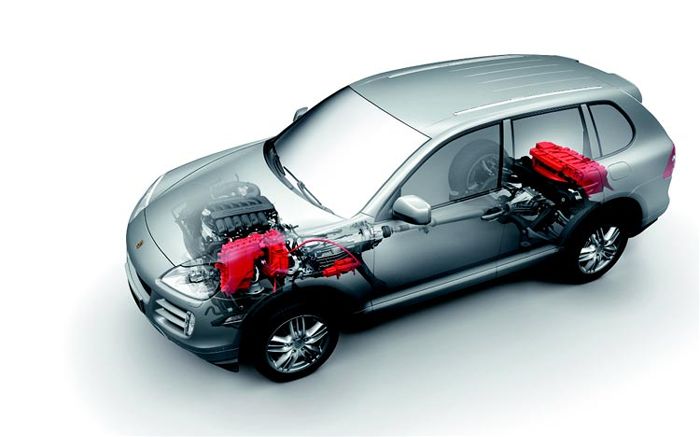 Press Release
The Cayenne S Hybrid will deliver the power of a V8 and the efficiency of a four-cylinder

Porsche AG, the Stuttgart, Germany-based high-performance car and SUV manufacturer, shared more information about its Cayenne S Hybrid, which will debut next year. Using a parallel full hybrid design with the electric motor between the combustion engine and the transmission, Porsche engineers have been able to drive at speeds up to 86 mph without at all using the combustion engine.

This engineering achievement allows the Cayenne S Hybrid to roll freely - or 'coast' -- at highway speeds without the combustion engine on, greatly minimizing engine emissions and fossil fuel consumption. This differs from current hybrid concepts that deliver benefits mainly in city traffic. Porsche, in cooperation with Volkswagen, opted for the parallel full hybrid design as it also significantly improves acceleration, a concept that matches the company's philosophy of offering outstanding performance and efficiency. It also fits in the current Cayenne design with minimal alterations and without affecting interior space or luggage capacity.

When it comes to market in 2010, the Cayenne S Hybrid is expected to emit some 20 percent less C02 than comparable combustion engine vehicles with similar power output. Covering a 0-to-100 km/h sprint in just 6.8 seconds, it earns its 'S' designation by delivering V8 performance and four-cylinder efficiency, all while complying with the Ultra Low Emission Vehicle II (ULEVII) emission standards.

The Cayenne S Hybrid uses a supercharged Audi 3.0-liter V6 engine with Direct Fuel Injection (DFI), 333 horsepower and 324 lb-ft of torque from 2,900 to 5,300 rpm. It is mated with 52-horsepower three-phase synchronous electric motor that produces up to 221 lb-ft of torque and also acts as an alternator, and the combined power units are joined to an eight-speed automatic transmission. Also on board is a 154-lb. no-maintenance 38 kW nickel metal hydride (NiMH) battery. Measuring 13.7" x 24.9" x 11.5", it fits in the spare tire well, thus not compromising luggage capacity.

The Hybrid Manager is the Cayenne S Hybrid's "Heart"

The heart of these technologies is the powerful Hybrid Manager, which requires some 20,000 data parameters to operate (compared to a conventional engine control unit that operates on less than one-third of the data). Since a parallel full hybrid operates in three classic hybrid modes - power generated by the combustion engine and electric motor, power generated by the combustion engine only, and power generated by the electric motor only - the Hybrid Manager's main function is to seamlessly coordinate these modes to deliver optimal performance and efficiency.

With a clutch being the key connection between the combustion engine and the electric motor, the Hybrid Manager has the tough job of providing smooth but quick switching among the three hybrid modes without delay or a noticeable transition felt by the driver and passengers. For example, the Cayenne S Hybrid can motor along solely on electric power for up to 1.2 miles with the combustion engine off, and the Hybrid Manager will fire up the engine as soon as the driver presses the accelerator, increase engine speed appropriately and engage the clutch to transfer power to the transmission without the driver or passengers noticing what is happening. And, it does this within just 300 milliseconds.

When driving with just the combustion engine, the Hybrid Manager also will ensure the engine is operating as efficiently as possible in reference to its load. It switches the electric motor to an alternator mode, so the fuel consumed by the combustion engine not only efficiently powers the Cayenne but also generates electricity that can be 'parked' in the NiMH battery. Finally, when the driver presses the brake pedal, the Hybrid Manager feeds as much energy as possible from the electric motor (again running as an alternator) to the battery.

The Cayenne S Hybrid also has electrically driven ancillary components such as the air conditioning compressor and the power steering pump.

Unlike conventional Cayenne SUVs, the Cayenne S Hybrid uses an eight-speed automatic unit. Porsche engineers added to the conventional transmission oil pump a new electrical drive pump to shift gears smoothly and efficiently also in electric mode. Top speed comes in sixth gear, and the two higher gears serve to further reduce engine speed to enhance fuel economy. Eighth gear, for example, enables the driver to 'coast' along without the combustion engine at speeds up to 86 mph.

Porsche expects the Cayenne S Hybrid to consume less than nine liters of fuel per 100 kilometers in the New European Driving Cycle. EPA fuel economy figures are not yet available.

A similar hybrid system will find its way into the new Porsche Panamera(R) four-door gran turismo sometime following Porsche's fourth model line debut in late summer 2009.

Porsche Cars North America, Inc. (PCNA), based in Atlanta, Ga., is the exclusive importer of Porsche sports cars and sport utility vehicles for the United States. It is a wholly owned, indirect subsidiary of Dr. Ing. h.c. F. Porsche AG. PCNA employs approximately 180 people who provide Porsche vehicles, parts, service, marketing and training for its 201 dealers. The dealers, in turn, provide Porsche owners with best-in-class service. Throughout its 60-year history, Porsche has developed numerous technologies that have advanced vehicle performance, improved safety and spurred environmental innovations within the automotive industry. The company continues to celebrate its heritage by adding to its long list of motorsports victories dating back to its first 24 Hours of Le Mans class win in 1951. Today, with more than 28,000 victories, Porsche is recognized as the world's most successful brand in sports car racing. PCNA, which imports the iconic 911 series, the Boxster and Cayman sports cars and Cayenne sport utility vehicles and soon the Panamera gran turismo for the United States, strives to maintain a standard of excellence, commitment and distinction synonymous with its brand.