Nov 07, 2008 - 5:11pm IST
Filed under Honda, Tuning, blue paint, galpin auto sports, carbon fiber hood, stoptech brakes, Honda Accord, accord coupe, intercooler, sema, wo tunnel-sized exhausts
SEMA 2008: Galpin Accord Concept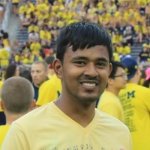 Harish Kumar, Hi, I'm Harish Kumar, fondly known as Harry. Two words explain me - Car Nut.
[singlepic=131,320,240,,]
SEMA has one more show star of Indian interest. We had a look at the Civic yesterday and now we have the Accord coupe. The Galpin Accord Concept is actually pretty tasteful for a Galpin Auto Sports vehicle, and even if the bright blue paint job doesn't get you more attention on the street than you can handle, the two tunnel-sized exhausts out back will do the trick.
The carbon fiber roof and plinth for a rear wing will also get you all kinds of cred in certain parts of town. And while information is scarce, the Stoptech brakes up front will help you come back from the edge when the car's actual limits are exceeded.We don't what's hiding under that carbon fiber hood, but we'll take it on faith that the intercooler up front isn't just for show and that something turbo'd lies within. And then, because apparently racers can't hear the stereo when they're hard on the gas, the back seat has been replaced with a speaker array. You just can't be the fastest man on the planet without tunes, now can you?
Galpin Honda Accord Picture Gallery
IAB
Source : Autoblog