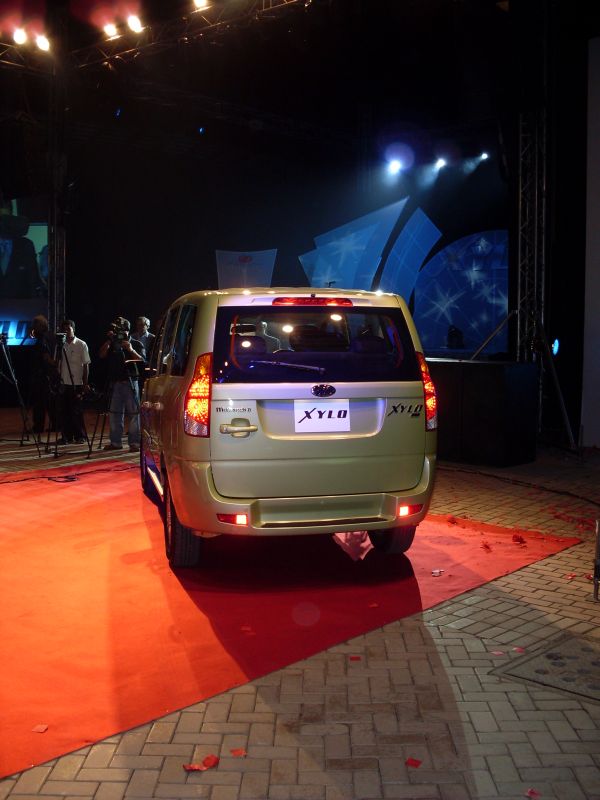 Mahindra's much awaited XYLO was unveiled a couple of weeks back (we were at the Special launch, in case you didn't know) and until today we hadn't heard anything from Mahindra, though a few friends from Mumbai told me the XYLO sales was picking up rapid pace.
Minutes back, Mahindra has sent us an email saying 1,788 XYLOs were already sold in this time frame and 4,000 bookings have already been recorded across dealerships in the country. We learn that the XYLO's looks has not affected sales, with it's comfort, space, features and pricing masking its appearance.
Mahindra have gotten a strong start with the XYLO and the demand is somewhat unprecedented for the company. Mahindra plans to ramp up production, and the automatic transmission, petrol variants are going to come much before original plans.
Press Release-
February 2, 2009, Mumbai: Mahindra & Mahindra Ltd., (M&M), one of India's leading automobile companies, today announced that the recently launched Mahindra XYLO has sold 1,788 nos. in two weeks, with the first vehicle delivered on January16, 2009. Moreover, bookings for the XYLO have crossed the 4,000 mark since launch.
"Prior to the launch of the XYLO, a lot of excitement was generated amongst potential customers which is reflected in the sales and booking numbers. This demand has led us to ramp up production which was possible at short notice as both the Scorpio and the XYLO are manufactured on the same line," said Mr. Rajesh Jejurikar, Chief of Operations, Automotive Sector, Mahindra & Mahindra Ltd.
Since its launch on January 13, the XYLO has received a tremendous response with both auto enthusiasts and customers appreciating its strong value proposition of status and luxurious comfort. The XYLO website www.xylo.co.in has registered over 7 lakh hits till now, while dealerships are seeing a significant number of walk-ins every day. The XYLO offers an array of features including Flat Bed front seats, foldable flight trays, surround cool dual ACs, Intellipark Reverse Assist and the unique Digital Drive Assist System (DDAS), which has led customers to perceive it as an ideal alternative to premium sedans.
Mahindra XYLO Interiors
Mahindra XYLO Exteriors
Bored of seeing the official XYLO images? More images at-