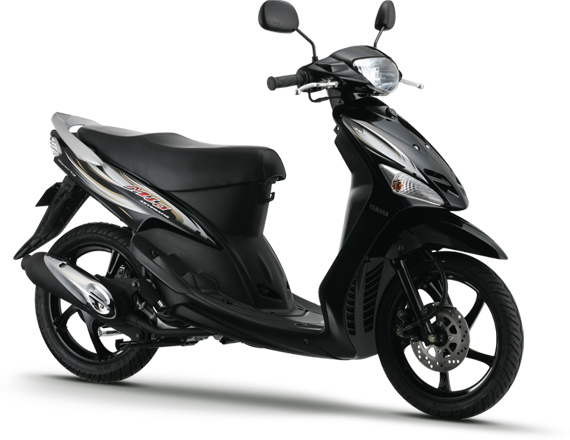 IAB had carried an article indicating that Yamaha is not far away from launching its scooters in the Indian market. Now, we get news that they will be launching one next year.
The scooter market does have its fair share in the Indian 2-wheeler market, 15% to be precise. Honda  with the Deo and Activa, and TVS with the Scooty pep have ruled this segment for a long time so it is the right time for Yamaha to inject some appeal in these things by introducing its racing inspired moto-scooters!
The Division Head (product planning & strategy) of the company, Sanjay Tripathi, told media that the scooter that is to be launched will have an engine as equally powerful as a motorcycle engine, while the transmission will be automatic. In addition to the scooter, the company also plans to launch two motorcycles, he said.
Expect the scooter to have a capacity around 125-150cc competing with the Kinetic Blaze and the upcoming Bajaj Blade. Expect the R125 and either a cruiser or a new 100cc bread and butter model.
YAMAHA IS WORLD NO 2

Present in over 40 countries with 114 subsidies, the $187-billion Yamaha Motor Corporation has been largely successful in other two-wheeler markets it has been operating in, positioning itself as a number two player in the world and that is quite something for this Japanese bike maker.
Right from inception in 1985, the company maintained about 20 per cent market share with three products RX 100, RX 135 and 350-cc two stroke motorcycles. It maintained a market share of about 20 per cent till early 1990s. When the market was transforming from two-stroke to four-stroke motorcycles, the company did not offer suitable products as its peers did. Its market share dropped to less than two per cent last year.
Yamaha Motor sold 1.15 lakh units between January and December 2007 and in 2008 it sold 1.4 lakh units in the first 10 months. This figure will jump as the R15 and FZ16 have met with immense success. And now, the company is trying to recover lost ground, the numero uno position in the higher capacity segment that it always deserved.
The Yamaha FZ16 and the YZF R-15 have helped the company grow by 44 per cent in India to 19,000 units in October this year against same month last year, when the two-wheeler industry reported negative trend.
Source : Sify