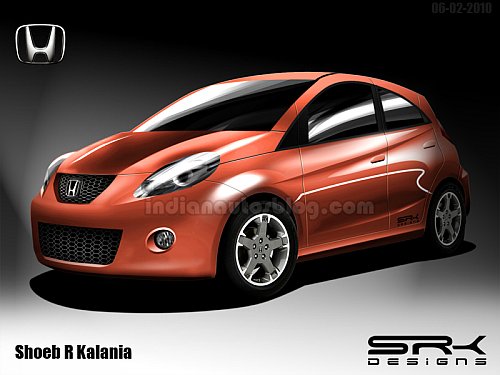 It seems like the Honda small car will come sooner than expected
In the month of March while most of the auto companies showed a positive growth in the sales, Honda's cumulative sales dropped by about 20%. There are cash discounts being offered on the Jazz thanks to its low sales, the Altis is clearly ahead of the Civic, the once popular Accord has been overtaken by the more value for money option-the Skoda Superb, the CR-V too is selling in minuscule numbers thanks to its steep price tag. It is only the city that is garnering sales for Honda.
This could have prompted Honda to rethink the launch of its small car (codenamed 2CV). If rumors are to be believed, Honda is planning to bring forward the launch of the small car. The company is aware of the fact that this car can fire up its' sales charts.
The Beat has helped GM cross the 10k mark in cumulative sales, the Figo has helped Ford overtake Honda & Toyota in terms of sales, the Polo has been a huge hit for VW with 5,000 confirmed bookings. Nissan will roll out the Micra in July & Honda's arch rival, Toyota plans to launch the hatch variant of the Etios in the month of December. Honda sure wants to speed up & does not want to be overshadowed by the bevy of hatches hitting the Indian market.
Even at the Auto Expo in January Honda brought in the small car concept at the last moment because it did not want Toyota to steal all the limelight with the Etios concept. This time around too Honda does not want to leave any stone unturned & is pulling up its' socks for the launch of the car.
Sources say that Honda might just launch the car at the end of this year or early next year. The car will roll out from Honda's Greater Noida Facility & will be powered by a 1.2-litre engine which would be a tuned-down version of the Jazz's 1.2. Honda is targeting a price tag of 5 lakh or maybe even below as the starting price. Knowing fully well Honda's frugal engineering skills, the car should be best in class in terms of fuel efficiency, refinement, ease of driving & reliability.