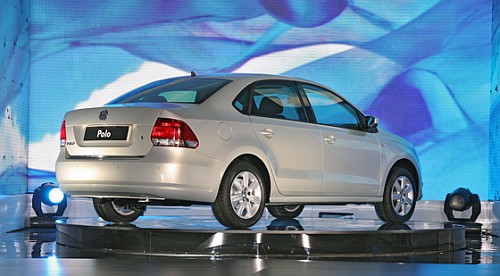 VW has unveiled the Polo sedan (Berlina, Vento) at Wolfsburg, Germany yesterday. The vehicle will go public after its debut at the Moscow motor show in August. VW is going to sell the Polo sedan to its Russian customers at US$12,800. It will be available with only one engine option which is the 1.6-liter petrol engine making 105bhp.
The engine will either be mated to a 5-speed manual transmission or a 6-speed tip-tronic transmission (Semi-automatic).
Indians however could get both the 1.6-liter diesel and petrol, details of which have been discussed here. VW has initiated trial production of Polo sedan at Chakan plant a few weeks ago and the car is expected to launch in India in the coming months.
VW Vento Image Gallery
can't see the slideshow above? head to the VW Vento Image Gallery to see the images
Press Release
Volkswagen Press Release

* World premiere of the Polo Saloon in Moscow
* A first: a Polo specially developed for the Russian market
* Moderate pricing: quality and reliability for a wide circle of customers

Wolfsburg / Moscow, 02 June 2010 – While advance sales began for the Polo produced in Kaluga, Russia, the world premiere took place before 200 high-ranking guests in Moscow today. For the first time in the history of the brand, a vehicle has been developed specially for the Russian market, bearing in mind its specific climate and street conditions.

Dr. Ulrich Hackenberg, member of the Board of Management of Volkswagen Brand with responsibility for Development, says: "The new Polo Saloon does not only fulfil the highest standards of modern automotive engineering. The efficient technologies, outstanding active and passive safety and the traditional high quality of workmanship and materials are groundbreaking for this class. In conjunction with the timeless design, a level has been reached that is unprecedented in this segment and this market."

Frank Wittemann, Head of the Volkswagen Brand in Russia: "The new Saloon extends Volkswagen's range of vehicles und builds a bridge from our bestsellers in Russia, the Passat and the Jetta, to the small familiy car segment. With it, an even greater number of friends of our brand can choose a vehicle according to their taste and possibilities. The new vehicle complies with the global quality standards of Volkswagen in every respect, while being very attractive in terms of price: The Polo Saloon is being offered at a price from just a bit over 10,000 euros and up."

The new Saloon is being built on a completely new assembly line at Volkswagen AG's plant in Kaluga. The Volkswagen Polo is equipped with a new 1.6-litre Otto engine (77 kW / 105 PS). It can be combined with a 5-gear manual gearbox or a 6-gear automatic gearbox with sequential shift function (Tiptronic). Hence Volkswagen is the first automobile manufacturer offering their Russian customers such an up-to-date automatic gearbox in this vehicle class.

A high level of safety is ensured already in the Trendline basic version-two airbags, head rests and three-point seat belts for all five passengers. From Comfortline and up, the Polo is equipped with ABS as standard. In the Highline top version, additional safety systems are integrated that are normally unavailable in this class-for instance: side air-bags and ESP.

The specific demands of Russian drivers and the climate and street conditions in Russia have both been carefully taken into account during the new Saloon's development: long-term tests were conducted in different climate zones, and the street conditions in the most variegated regions in Russia were examined. The available petrol qualities were tested repeatedly as well. Thus the vehicle has been equipped with an up-to-date and reliable engine that is ideally suited to those operating conditions prevailing in Russia, a galvanised, non-corrosive body and a wheel suspension geared to bad roads. Particularly robust paints were used for the car's paint job, and the chrome parts are also highly resistant to aggressive agents.
Display image courtesy - Caredge