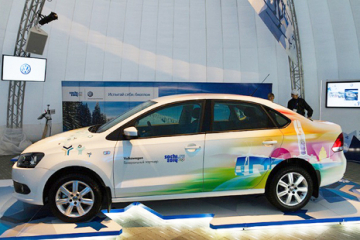 VW's Russian plant has rolled out the 5,00,000th car off its assembly lines and it was a VW Vento, which is called as the Polo sedan in Russia.
The 5,00,000th car was a highline variant which was painted in the official colours of 2014 Olympics and Paralympics which will take place at Sochi, Russia. The car will be donated to an NGO called Leader which specializes in rehabilitation and social adoption of persons with disabilities.
The VW's Russian plant is located at Kaluga where Skoda Fabia, Skoda Octavia (Laura), VW Polo sedan and VW Tiguan are built. The plant began production three years ago and according to the company, more than half of the VW cars sold in Russia are made locally.
Volkswagen board member Mr. Hubert Valtl said that the factory will manufacture the European Skoda Rapid which is set to be launched in Russia shortly. The company is also planning to set up a powertrain plant at Kaluga which will go on stream in 2015.
The VW Vento is not a global model and is sold only in select countries such as India, South Africa, Middle East, Malaysia and Russia.
[Source: Carclub.ru]