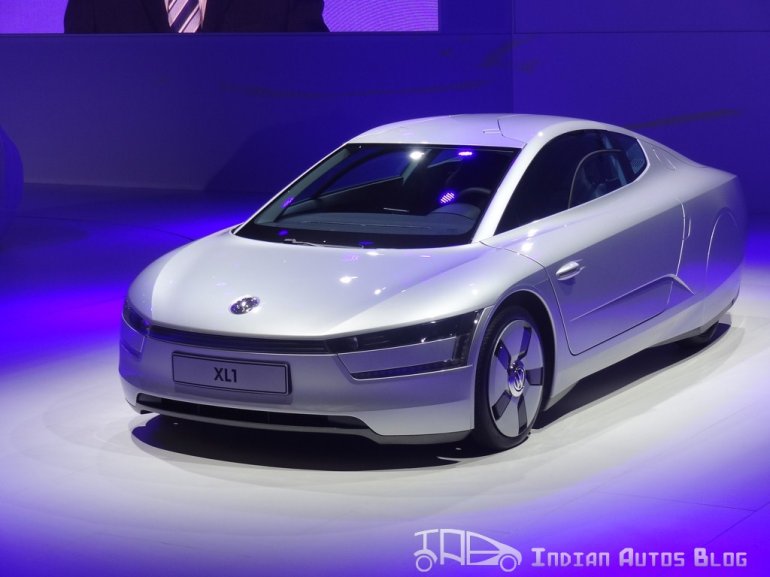 Although there is no official confirmation, Volkswagen Up! is being seriously considered by VW India for the Indian consumers. Its small dimensions coupled with super efficient engineS make it nearly a perfect entry-level car for India.
However, the VW Up! is only available with a petrol motor which may work against its favor as Indian auto market is dominated by diesel cars.
However, VW has confirmed that the Up! will get a diesel engine very soon. This is not the normal TDI that we find in the Polo and Fabia.
In fact, it's a whole new engine developed specifically with fuel efficiency in mind. Essentially, it's a compact twin-cylinder TDI turbodiesel engine, displacing 800cc and delivering 47hp/121Nm developed for the Concept XL1.
The Concept XL1 was showcased at the 2012 New Delhi Auto Expo. VW claims that the Concept XL1 can squeeze 110 km from a single liter of fuel. This magical figure is obtained thanks to a twin-cylinder turbodiesel engine paired with an electric motor and seven-speed dual-clutch transmission and an overall weight of just 765 kg.
VW plans to put the XL1 in production by 2013. It will not be an economy car or mass produced as its built using superlight, supercostly materials. It's more of a showpiece like the Bugatti Veyron except its on the other end of the spectrum.
However, the XL1 will donate its engine to the VW UP! which you might be able to book from your nearest VW dealer.
And don't expect the Up! to give you 110km/liter!
[Source: MotorAuthority.com]