While us folks in India would soon get to see the VW Polo GT TDI and the Cross Polo, the South Africans are a much cooler bunch.
Those visiting the VW factory in Uitenhage, Eastern Cape Province of South Africa are in for a good factory tour. Instead of walking the gangway and tiring oneself out, you can now ride the VW factory train! It was custom built by two VW Motorsport employees who used recycled and unused car parts that were available in the factory. Johnny Allen and Cobus Barnard took over three months to complete the train. They say that each car took nearly 30 days to complete.
Everything about this train is recycled. The paint used on them was leftover from rally cars, as are the bolts and nuts and some interior trim. The chassis was made from old tire racks, and the side panels and the doors were moulded from scrapped parts.
These guys have turned scrap pile into a train which can seat 21 people, each car seating 7 people in a three row configuration. The train is pulled by an electric tow motor.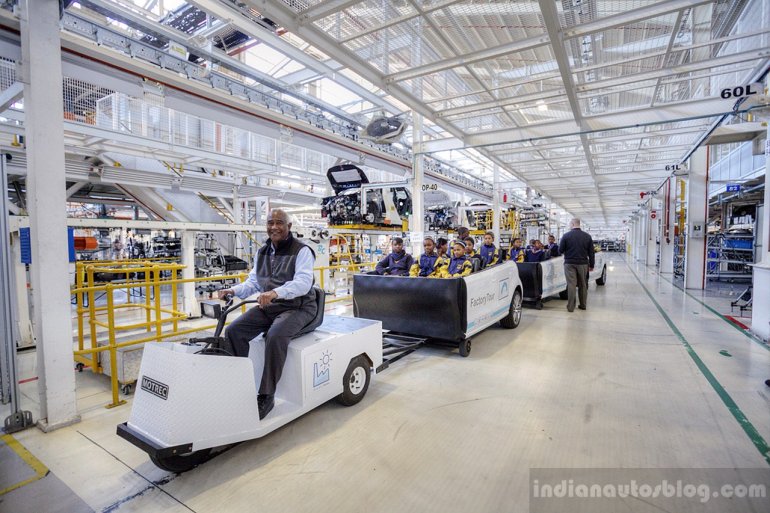 The South African facility of VW makes the Polo and the Polo Vivo. About 43,000 people have visited the facility in the last 5 years.
Matt Gennrich, General Manager of Communications at Volkswagen Group South Africa said -
We were initially planning to outsource the project but we changed our minds after realizing we have vast amount of experience in the company which we can tap on for our ambitious project. The decision to use internal expertise saved the company money and delivered world-class, quality work that we are very proud of. 
The 3-row configuration of the Polo Train makes us want an MPV based on the Polo!
This development was reported to us by our reader and VW Polo fan Rich Gooding who runs Polo Driver.
Press Release on Page 2.
VW Polo Train in South Africa Press Release
[Head to Scribd if you're unable to view the document above.]