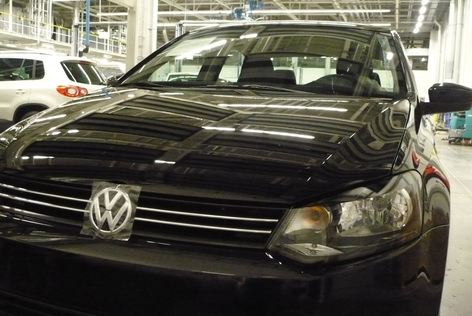 Vince Burlapp has posted images of an undisguised Polo sedan (VW Vento) inside what looks like a production line. The Polo sedan will reach VW showrooms in India within the next three to six months.
The Polo sedan will get the twin slab chrome grille from the hatchback. As the Indian Polo is marginally different compared to the European Polo, we are unsure if the bumper will have integrated slabs instead of the mesh that's present on the hatch. The rendering posted by Autocar India had slabs in it, but that was only a sketch and not a photograph.
The wheelbase, slightly longer on the sedan, permits the rear seat passenger to stretch his legs.  The rear seats will be be touch comfier. The addition of a boot and a 1.6-liter petrol-diesel combo under the hood will catapult the Polo into the territory of the Honda City.Perhaps the Honda City buyer, who misses a diesel badly, could opt in for the Vento.
There will also be considerable more equipment on board. The dashboard is no different compared to the hatchback. VW is adding a coat of shine to certain areas or is it just a protective layer of polythene?
Perhaps VW will add more variants after gauging the initial response of the Indian customer.
VW Vento Image Gallery
Source - Burlapp Cars